KidZania Singapore is one of the fastest growing kid's hands-on entertainment brands in the world. It is an interactive indoor theme park combining inspiration, fun and learning through realistic role-play for children aged 4 to 17. At KidZania Singapore, kids can independently explore an 81,000 square feet kid-sized city, complete with buildings, paved streets, vehicles and a functioning economy, just like in a real world! Through realistic role-play, they learn about different careers, the inner-workings of a city and the concept of managing money. More information is available at
https://www.kidzania.com.sg/
Post-holiday, KidZania Singapore looked to drive off-peak sales by partnering with Knorex to provide a digital solution to complement its marketing plans. KidZania Singapore was also using other avenues for its marketing and wanted Knorex to explore possibility of running an integrated campaign.
By leveraging on Knorex XPO™ platform to run an online campaign across EDM, Facebook and display networks, Knorex worked closely with KidZania Singapore team to plan and execute several strategies for various channels to ensure a good mix of audiences were included but not overlapping. At the same time, Knorex proprietary attribution model was employed so that no bookings were double counted across all the channels and true ROI was reflected to KidZania Singapore.
Engaging dynamic creative were assembled to drive key messages and online booking. Several additional strategies targeting high affinity audience, parents, audience to drive for higher conversion.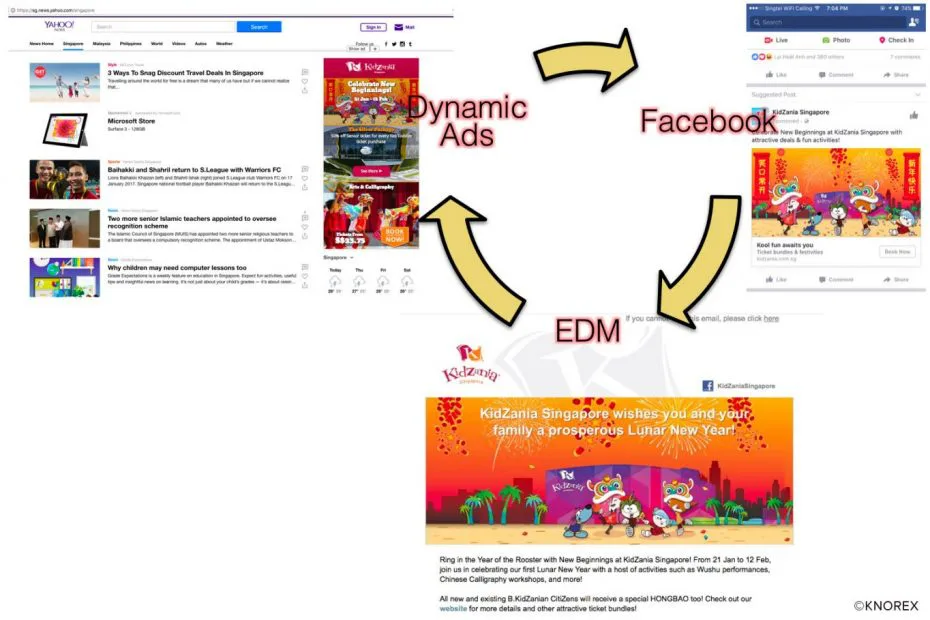 Through Facebook, same visuals and messages were propagated to Knorex first-party high-intent (FPHI) audience. Further, anyone who clicked on the mailer sent out by KidZania Singapore was also targeted. Such extensions reinforced that relevant and highly engaging messages were shown to high intent audience at the right moment leading to higher bookings.
Executing integrated advertising on display, Facebook and EDM linking helped Knorex delivered to the client exceptional results.
Through medium agnostic targeting, additional 31% high intent audience received targeted key messages. The campaign helped to drive an additional 32% online bookings.