The growth of technology in modern times has changed the ad buying and selling world. The traditional concepts of manual ad insertions and publishing have been replaced by demand-side platforms (DSPs) and supply-side platforms (SSPs).
According to a latest market study report, in the coming five years, the DSP market is predicted to register 26.3% CAGR in terms of revenue with the global market size of DSP estimated to reach US 31.3 billion dollars by 2024.
The article walks you through the major components of a DSP, how work is carried out using it, the benefits and possible cons of the technique.
Meaning of Demand-Side Platform (DSP)
As per BuiltWith report, 396,458 websites in the top 1 million websites are utilizing some form of DSP and DoubleClick Bid Manager (now known as "Display & Video 360") being one of the most popular of the DSP.
A DSP is a software system that lets ad buyers to buy and bid in real-time to show their online ads and manage their ad inventories. The ability to choose which ad to purchase enables advertisers to target their intended customer circles.
Similar to a paid search, DSP lets users optimize their strategies using a preferred benchmark such as eCPA or eCPC. Taking over some of the functions of advertising networks, such as serving ads, DSP offers much more including real-time bidding, ads tracking, vertical and lateral tracking, all typically within one platform.
With so much on offer, many third parties are now integrating it directly into their system to allow better tracking and management. In today's article, we discuss the various facets of the demand-side platform.
As per a study by emarketer, following are the key criteria for purchasing a DSP services:
Audience scale or reach

Targeting capabilities

Reporting features

Optimisation

User interface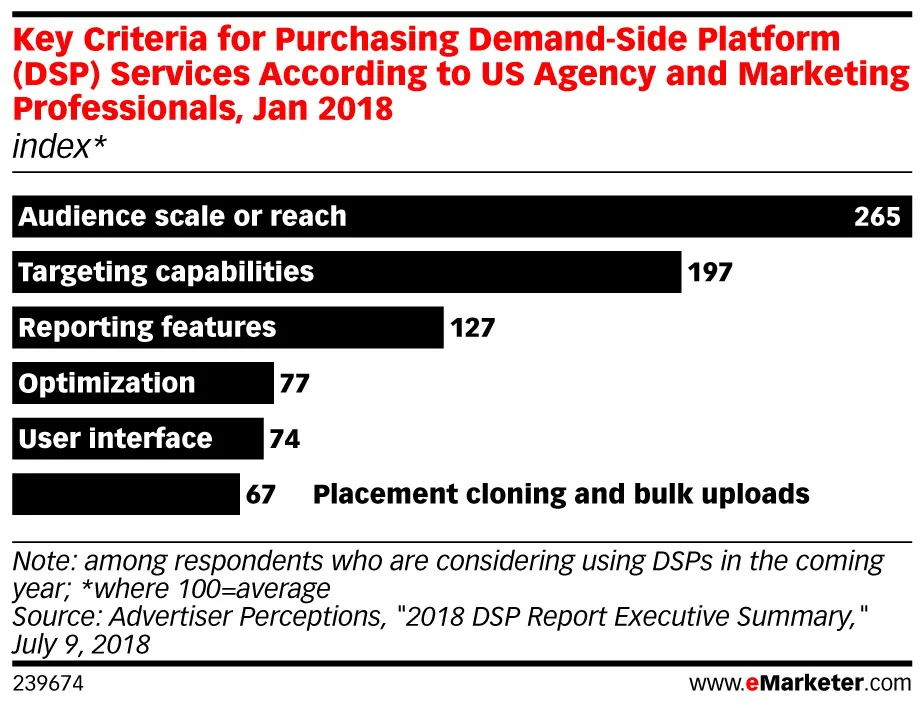 Since DSPs follow programmatic advertising approach, let us first start by understanding how programmatic advertising works.
What is programmatic advertising?
Programmatic advertising is the process that DSP follows to buy and sell ads with the help of software and after that publishing them in various ad spaces using complex and sophisticated algorithms.
As per another study conducted by emarketer, "In 2018, programmatic fees made up 34% of nonsocial programmatic display spending, totaling $9.86 billion. That figure grew 18.1% this year, and we predict it will grow 15.4% in 2020 to $13.44 billion." (Reference: emarketer.com)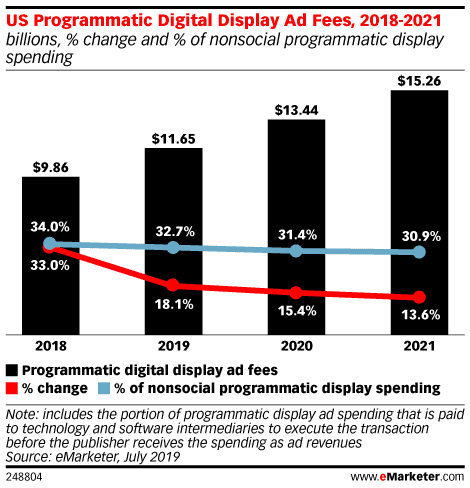 There are two sub-processes involved in programmatic advertising:
1. Real-time bidding (RTB)
With the help of RTB, you can specify your target customers and the amount you want to spend. After that, a competitive auction bidding takes place amongst you and all the other advertisers looking to buy the same ad.
The next step is to show the ad to the potential customer who lands on your page. Before the page fully loads for him, the algorithm decides which advertisement will be most suitable for him by using his IP address, browsing history, and other factors.
In the last step, the agency with the highest bid wins the placement, and the ad is visible as soon as the page loads fully.
2. Programmatic direct
Unlike the concept of RTB, programmatic direct is a traditional method in a modern world. With its help, you can ensure ads are shown only in the designated spaces. Most of the big publishers sell their ad space via this method. To make it more useful for the buyers, the publisher supplies them details about its visitors which enhances the visibility of the ads.
Components of a DSP
A DSP consists of several elements, all of which align together to make sure that it works.
Here are the parts of a demand-side platform –
1. Bidder
To start, you will get a bidder in every DSP. It places the bids on inventory when the RTB (Real-Time Bidding) takes place. It is the task of the bidder to secure a space for your ads.
2. Ad-server
An essential tool for campaign management, ad-servers can be owned or rented, but every DSP must have it. These servers perform the job of storing the ads as well as displaying them to the end-user. After placing the ads, they offer tracking, retargeting, optimization, and reporting of various purchased media categories.
3. Campaign tracker and reporting databases
This element is useful in assessing the performance of the campaign based on several factors such as impression, spends, and clicks. It records all the requisite information and sends it over to the reporting department. It helps in optimizing the effectiveness of the campaign and improve the retention rate.
4. User data
This section of the DSP helps in processing and storing vital information about the users. It includes their interests, buying habits, where their viewing interest lies, and the ads that they click. It is a useful tool for improving the efficiency of the campaign.
5. User interface
It is the front-end element of a DSP. Whatever the end-user gets to see, such as their dashboard, is a part of user-interface.
6. Integration
The last and the most important element of any Demand Side Platform is integration.
If you want it to work, it must be compatible with multiple SSPs and ad exchanges. We break integration down into three steps. The first step revolves around research and setup. The next step is all about development and proper implementation.
The last step consists of testing the product created.
Working of a Demand-Side Platform
When you are trying to understand the working of a DSP, the first thing that you must know is that they are independent of individual networks such as Google or Facebook.
It means that if you are using Facebook Ads Manager for your ad purchases, you can only expect advertisements in the Facebook network, namely Instagram, Whatsapp (as and when monetized), and Facebook itself.
All such ad managers are third-party software that allow you to buy and manage your ads at a single place. Its working differs from other similar offerings such as programmatic advertising and SSPs.
Why use a DSP and why should media buyers invest in them?
Advertisers in the present world are choosing to go with programmatic DSP in place of regular ad networks.
And here are the reasons which make DSPs so attractive:
They are cost efficient

Advertisers get uncontested access to traffic sources around the globe

Helps target the right customers and send them personalised messages

Transparency in media buying and selling
Modern and capable DSPs nowadays generally support cross device advertising , which means that they work both for mobile devices, desktops and many other devices and platforms.
Then there are DSPs that support cross-channel or omnichannel advertising, Adobe, Knorex XPO, The Trade Desk are examples. Using DSPs that support cross-channel, you get to reduce and hopefully eliminate the need to annoy your customers or visitors where you don't end up sending the same message to the same set of customers or prospects, multiple times.
Modern day omnichannel platforms can be really useful in such scenarios. However, organisations that have a small set of target audience and a focused advertising strategy often focus on single channel DSP.
Who uses a DSP?
Various DSP software are available in the market. These are most utilized by the advertisers within an organisation to create marketing strategy and manage the advertising campaigns.
Marketing departments usually have a specialised advertising team that creates these campaigns to target the identified audience. These teams also track the performance of each campaign and work on its improvements.
Similarly, DSP software are also used by advertising agencies who work with corporate customers. These agencies manage the entire campaign on behalf of the clients, and provide them with performance reports of each campaign at some pre-fixed costs.
What makes DSP different from Ad Networks?
At the outset, both DSPs and ad networks look to share quite a number of similarities to each other. However, there is noticeable differences when you delve deeper.
DSPs have inculcated most of what ad networks constituted. Where ad networks have a centralized source for inventory, DSPS have multiple sources ranging from ad exchanges to SSPs and users get the right to choose which sites they want to bid and pay accordingly.
The next big difference would be the level of human intervention.
When it comes to DSP, the platforms are primarily self-serving ones, i.e. you have full control over how your account shapes up.
On the other hand, as soon as you sign up for an ad network account, they will assign a manager for you. He will look into the campaign details and set up the requisites. It can be beneficial for some, but not so for the rest.
Are DSPs replacing Ad Networks?
Yes and no.
Most people who were on an ad network have moved on to a DSP, but there are many people who still stand by it.
On the hindsight, the difference between these two has narrowed down as ad networks have started understanding that modern consumers are looking for something different. To sum it up, DSPs are nothing but Ad network 2.0.
What is the use of a Data Management Platform (DMP)?
A data management platform (DMP) is a warehouse which stores the audience and campaign data. These hubs are important in unifying the audiences and bringing them under a single roof. After that, advertisers can go on to distinguish the data based on criteria such as demography, age, household income, etc.
After the segmentation is complete, they can then analyze the performance of every segment. It will also help advertisers in better optimizing their pitch to induce more customers to click on their ads. DMPs are significant for DSPs as, without the warehouse, DSPs won't be able to pull the performance results in an optimum manner. It also helps them in bidding, targeting and retargeting.
What are the benefits of using a DSP?
Following are the key advantages of using a demand side platform
1. Automation
When we are in the process of ascertaining ads, there are several processes involved, such as mass copy pasting, retargeting, downloading reports, and others. With the advent of DSPs, most of these have received automation or one-click activation.
Not only that, DSP helps in automating everyday optimization processes too. It automatically determines the best-performing traffic sources and blacklists those with low scores, thereby prioritizing the former.
2. Global reach and seamless integration
While choosing your DSP partner, remember that they differ when it comes to integration abilities.
Some of them integrate only with local publishers, whereas others partner with global ad exchanges. Plus, most of them are compatible with multiple currencies, but you must find out the type of ad formats and traffic verticals that they support.
3. Improved targeting
As mentioned above, you can customize your DSP to target a particular audience based on some predefined criteria or custom ones.
Most DSPs can aim to target the following:
Audience as per the device they use, such as desktop, smartphones, etc.

Audiences as per their location, country, time zone, etc.

Based on marital status, income, language, etc.
These lists, coupled with DMPs then help in better targeting of products to the end-users.
4. Inventory management
Most DSPs allow you to choose the type of inventory that you would like to purchase. Once you decide the required categories, the next step would be creating a whitelist and a blacklist containing the name of the best-performing and the worst-performing ad providers, respectively.
This helps you target the best in the lot and allows you to improve the chances of your RTB campaign's success.
5. Reporting and Analytics
With DSP's help, you can track the performance of your ad campaigns in real-time. The results will be granular, i.e. you would get sections depicting the website traffic, page view, engagements rates, CTR, CPC, etc.
There is nothing to worry even if your ads run on multiple channels. DSPs algorithm will collect data from all such sources and consolidate them to provide you with a cumulative report. Such results form a base for future strategies and help them to be better-equipped than before.
6. Cost-effective approach
If you are using Demand-Side Platforms for your traffic requirements, you know that you must bid only up to the amount you can pay. DSPs then provide the rates to all the ad publishers, exchanges and publishers. Ultimately an advertiser buys those which resemble his requirements and budget the most.
Due to the real-time approach, you not only protect yourself from overpaying, but you also get cheaper inventory which suits your cause the best. The ability to choose better targets to lock also reduces your costs considerably.
Knorex XPO™ is an AI-powered DSP that optimizes your campaigns across channels using powerful KAIROS machine learning engine. Get in touch with us to ask for a demo today!
Adverse impacts of using a DSP
While DSPs are hugely popular within the advertising world, there are some disadvantages that need to be considered.
1. The cost can seem unreasonable to some
Even though DSPs are cost-effective, the initial investment can be a tad uncomfortable for some.
As per Kevin Lee, you must allocate a minimum of $5000 per month for ad-spending via DSPs. If you spend anything less, the reach would be similar to that of what you would typically get via the Google Display Network.
2. Cookie bombing
Most DSPs serve ads throughout the funnel and take credit for any conversion irrespective of their interaction points with the lead. We all know that it is irrelevant to judge a campaign based on last-touch attribution only, and there are several other factors involved.
Though it gives heft to the DSPs idea of asking credit for conversions the way they do, but it becomes despicable when there are a lot of ads and a lot of users.
There is no way to ascertain whether the DSP's interaction had an impact on the purchase or not. A way out would be to place extra cookies on your potential customers. That way, you give yourself a higher chance to convert them.
3. High risk of fraud
One of the biggest issues with using DSPs is the lack of trust. Most of the amateur users complain of receiving fraudulent traffic by publishers due to the utilization of techniques like ad spoofing, bot farms, injectors, and others.
4. Difficulty in locking the exact target
Even though improved targeting is one of the advantages of DSPs, it would only be successful in the real world when the sites know who its users are in an optimum manner. Unfortunately, most sites don't know much about their traffic, which makes it more of guesswork than a certainty. The result depends more on your luck than on the algorithms.
5. Useless inventory
A general view of the world is that most DSPs have good ad inventory which is valid to a certain extent. You must be careful in ascertaining if your service provider is trying to sell you the stock which is irrelevant and won't sell elsewhere.
Wrapping Up
A DSP or a Demand-Side Platform is feasible for only those who are targeting users from multiple platforms. It provides you with efficiency and tools to improve your reach. You get access to various ad exchanges and premium inventory from all over the world.
On the other hand, if you are someone who has a limited potential audience or if you are looking to advertise on a handful of platforms, DSP may prove too costly for the results that you get.
With multiple vendors selling DSP technology, these have fast become the most important tools that are being used by advertisers to manage their online campaigns.