Let's say you have developed an App for your business. You have painstakingly gathered the right set of developers and supervised to bring in your idea into reality.
The app is finally launched in Google play store.
But, nothing seems to be happening.
You might be wondering why?
At a closer look, you can see that in Google App store, there are over a thousand submissions daily.
The graph below shows the number of Android apps released through Google play store in May 2020.
Just imagine the sheer volume of everyday app launches.
If you are wondering how to be on the front, the essential way is to increase the number of installs daily. And yet is the hardest part.
The answer to this intriguing problem is to run an App Install Campaign using Google Ads.
The great thing about Universal App Campaign is that you could advertise on some of the largest ad networks opened by Google. This includes Youtube, Google Play Store, search, display etc.
What are Google Ads App Campaigns?
This is an automated campaign that makes use of machine learning technology from Google to help you find the users who matter the most, based on your specific business goals.
In other words, Google Ads campaigns are automated campaigns which allow the user to push in-app conversion actions and drive installation.
This acts as a broadway that connects the global users to you through a multitude of platforms such as YouTube, Google Display, Google Play etc.
The process is quite simple wherein you have to submit a campaign objective, few lines of ad copy, some visual illustrations, a budget and a bid.
The rest is taken care of by Google algorithm where it takes not of your copy and visual combinations to make sure that your app has a much higher priority over the others and drives the best results possible.
Where can Google app campaigns be displayed?
What makes Google App campaigns so unique is that unlike the Apple search Ads, here app campaigns can be displayed across Google's Search, Display, and YouTube network.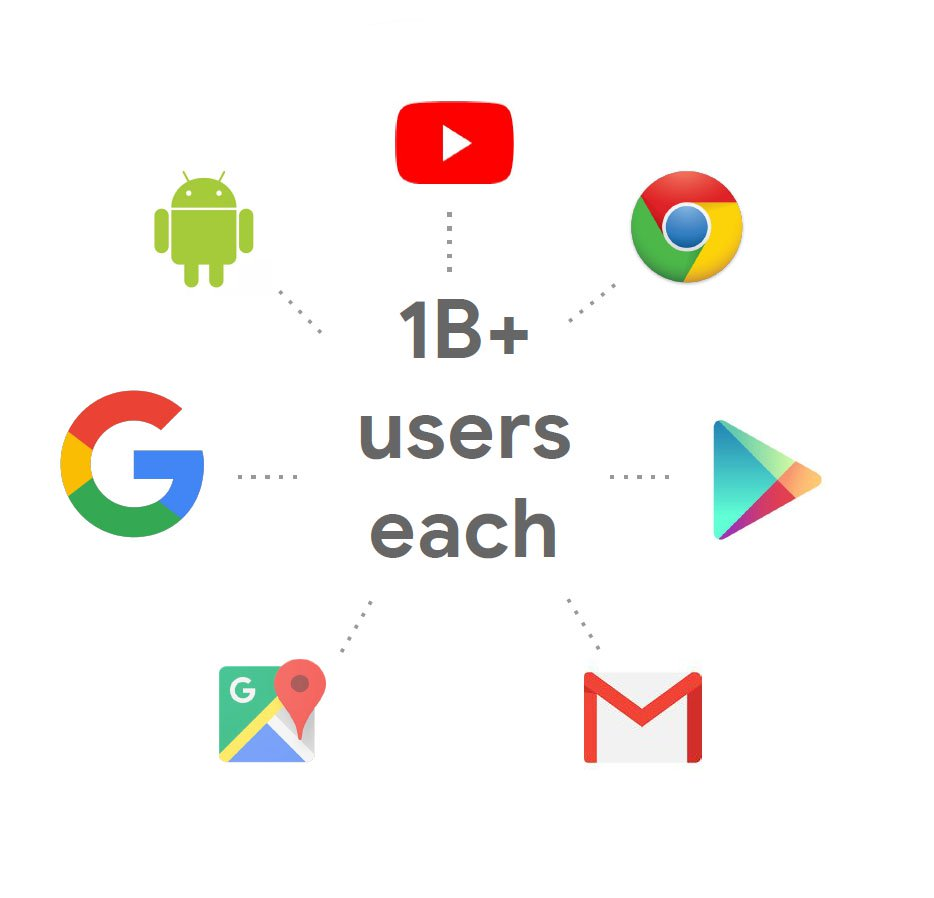 Below are some of the places where Google App campaigns can be displayed
Gmail

Google's Display Network

YouTube

Google Search

Discover (in the Play Store)

In-app
Creating Google Ads app campaigns
To set up a google universal app campaign, you first need to log in to your Google Accounts and click on the "+" icon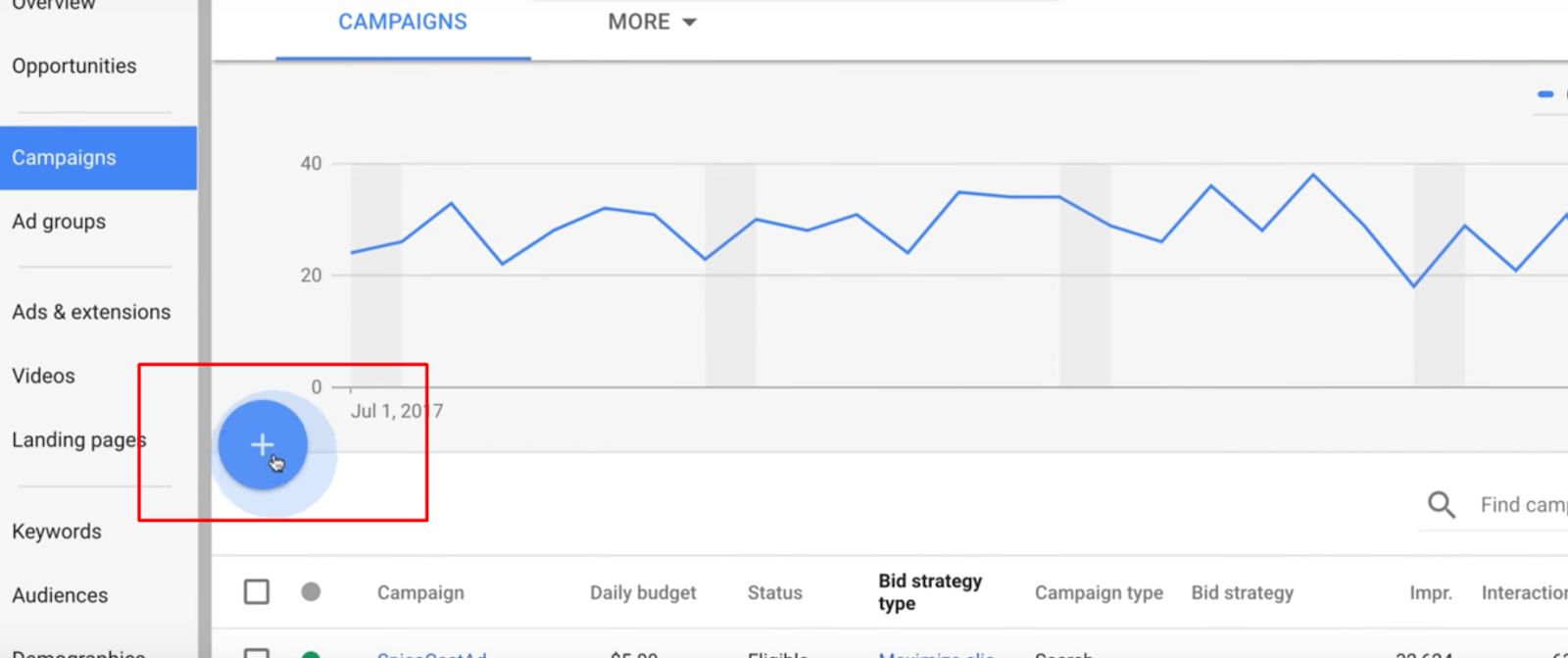 Then click on to the New campaign
Click on to the universal app button located at the far right side

After this, you can select the app platform for which you have developed your app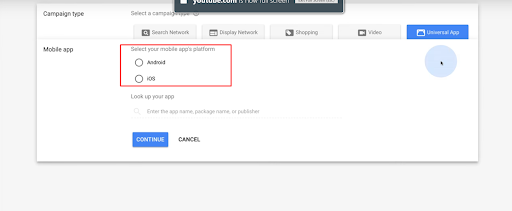 Search for your app from the drop-down menu and select it.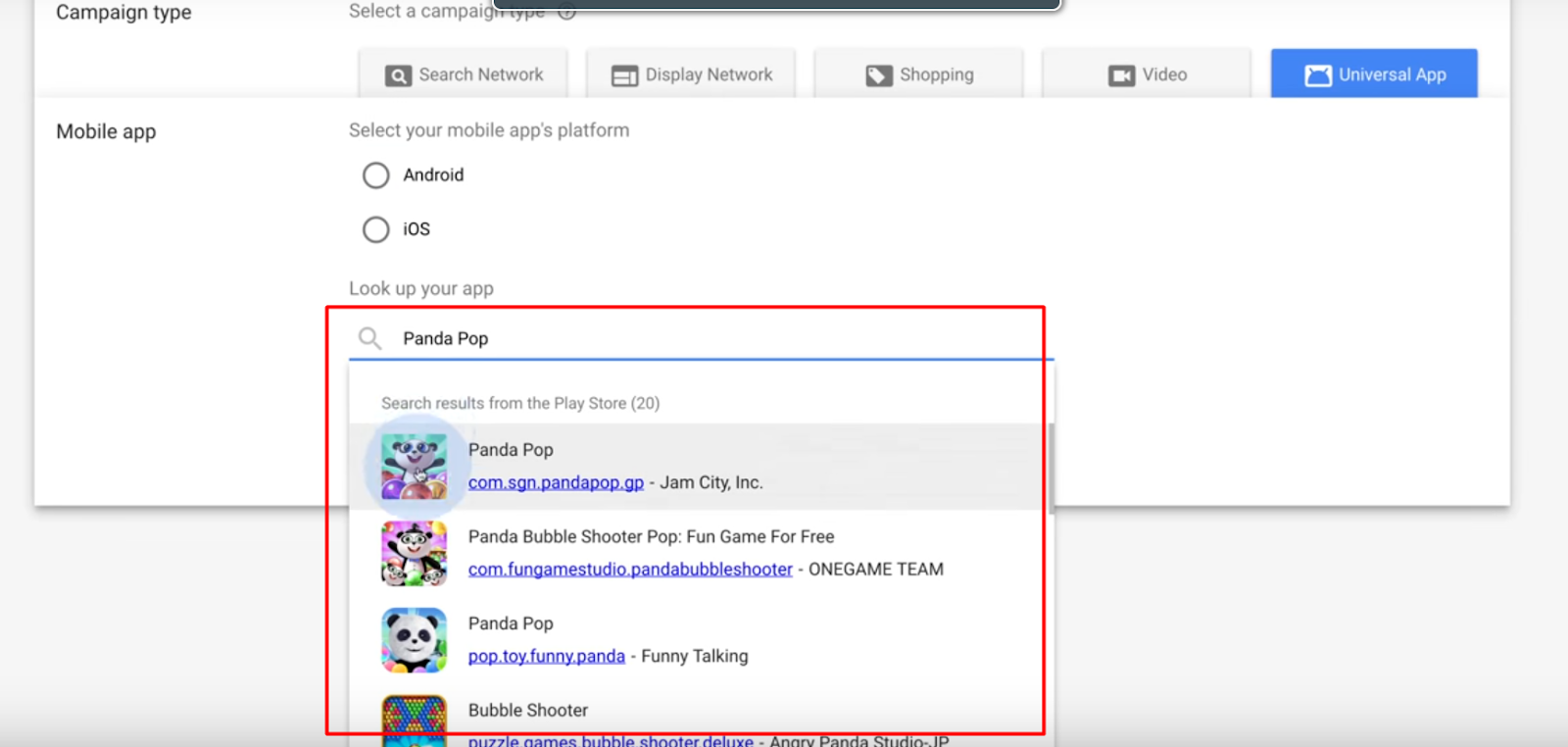 Press continue and name your campaign and add the text idea.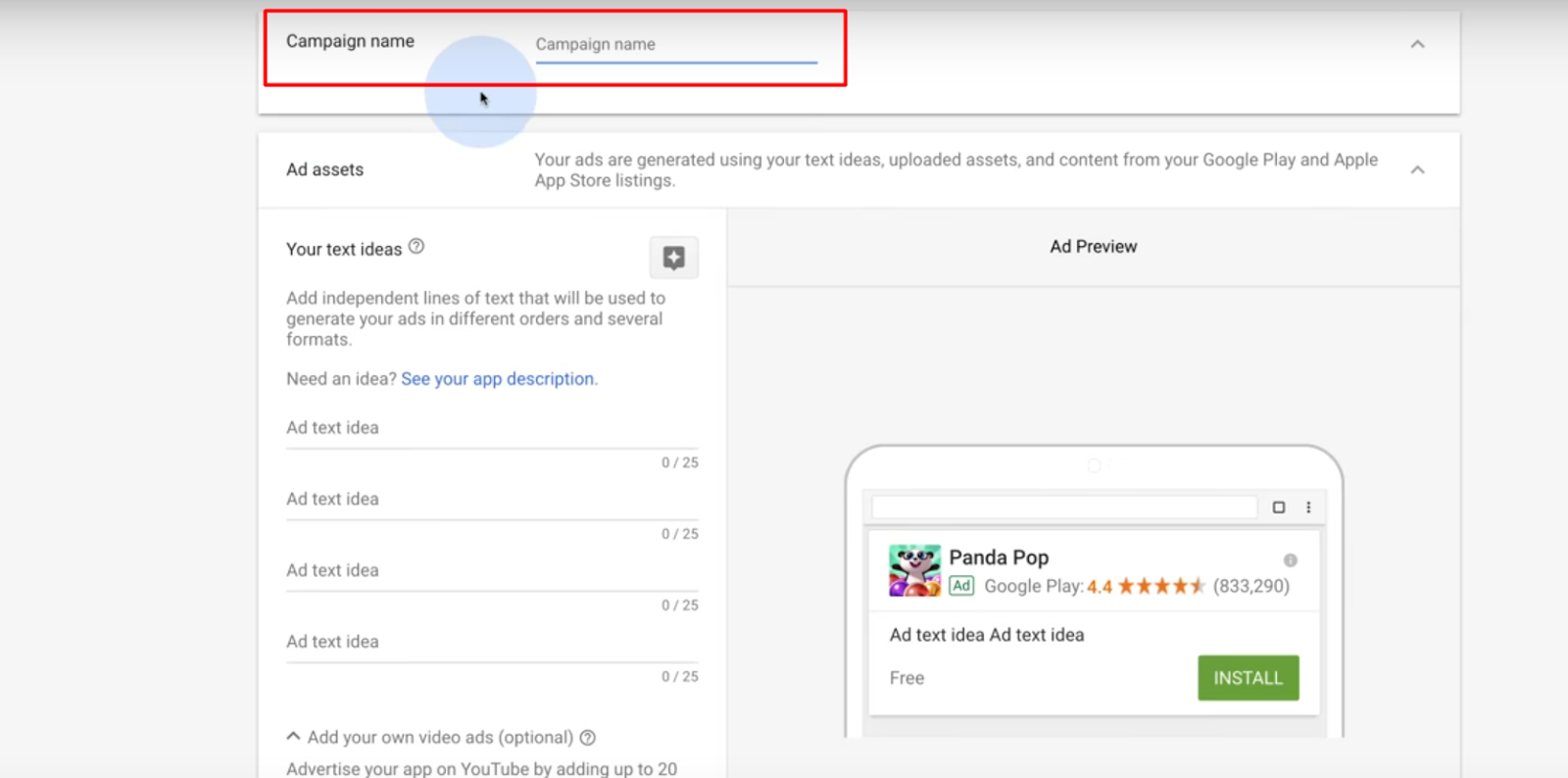 Do keep in mind that the text that you set here is automatically chosen and tweaked to create the best performing add for your Ad campaign.
Say for example if a particular line performs better it will be displayed more often. In addition, you could add up to 20 videos and images to be shown in your ads.
You could also preview the ads generated for you.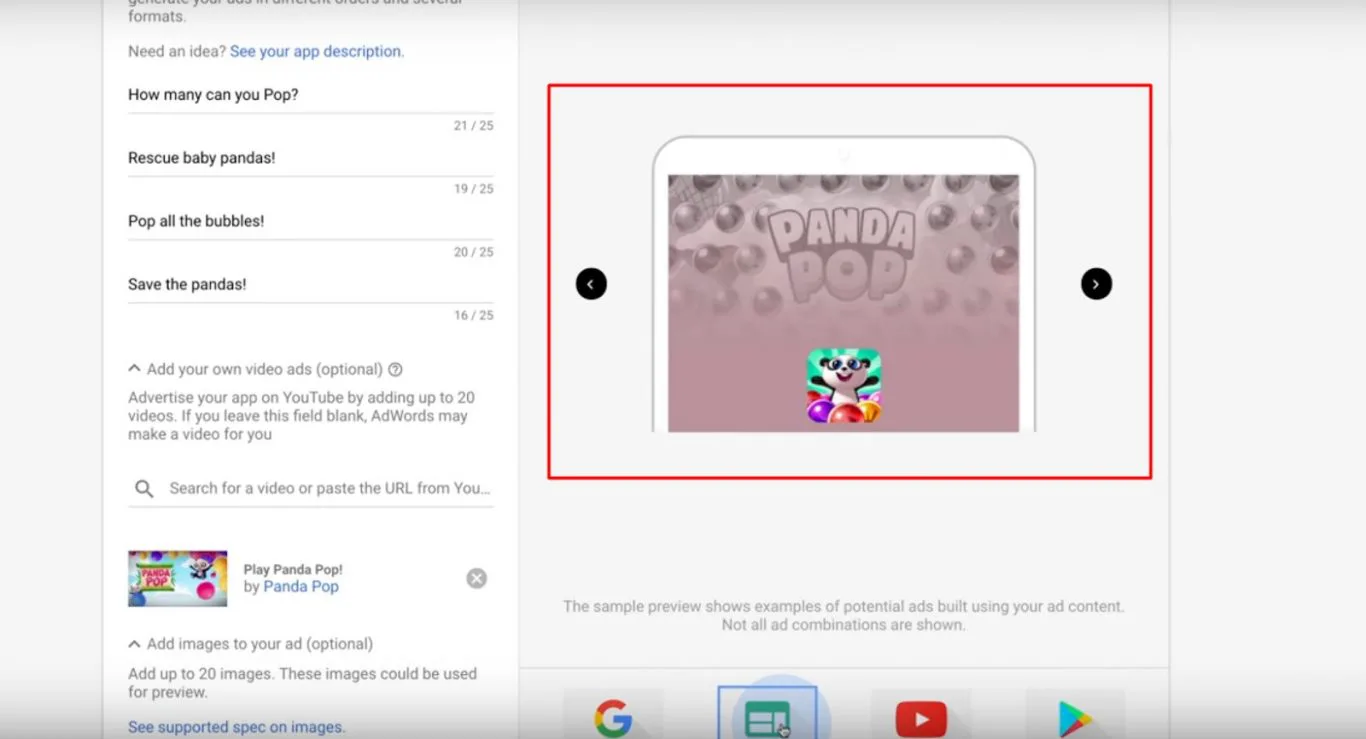 After adding text and other options you could choose your preferred location to target. There is also a language selection option where you could select the language of your choice.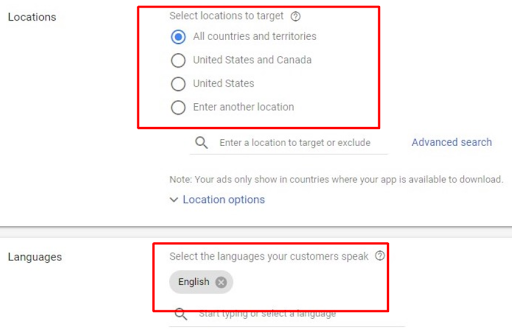 You could choose your budget, campaign goal and bid amount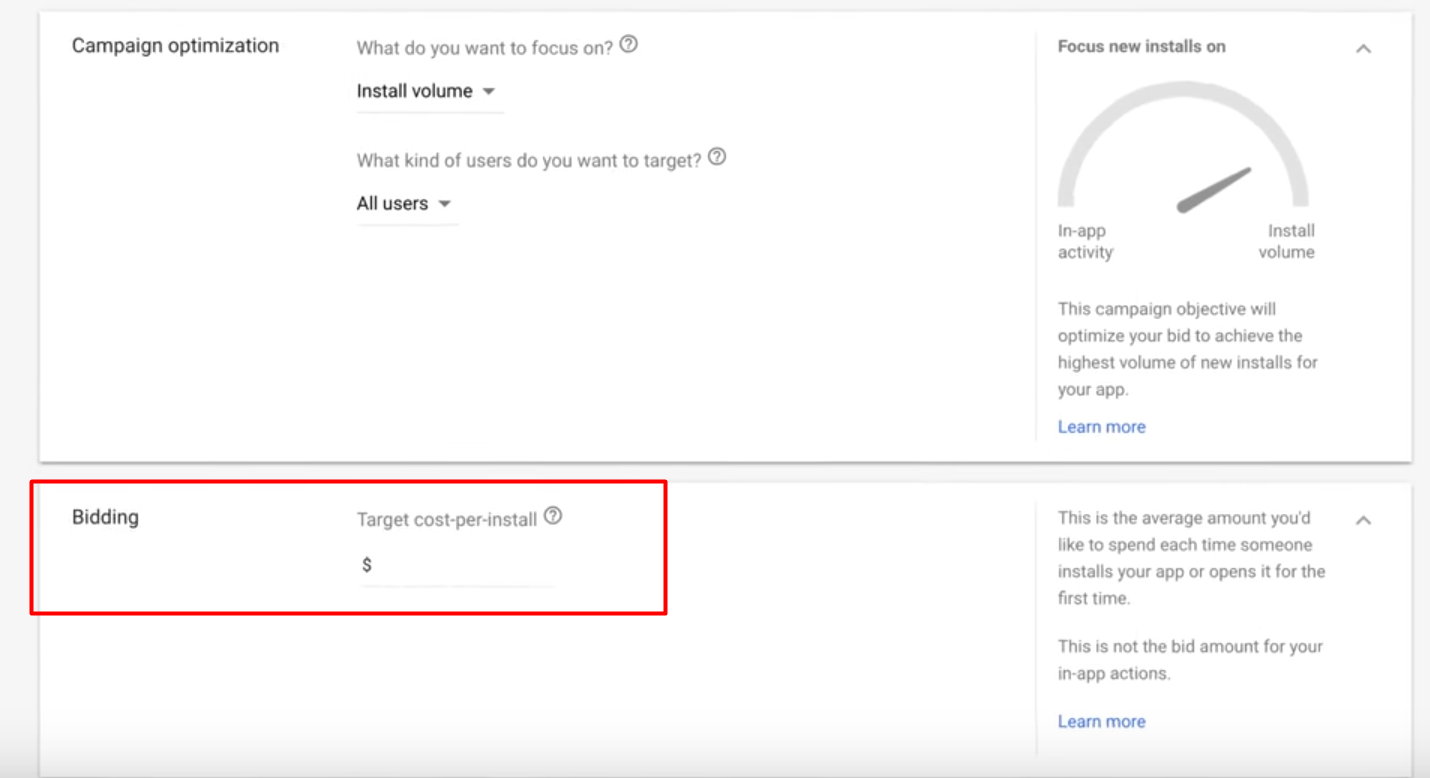 Do keep in mind that the bidding will be the average amount that you will be paying for each campaign. In the last step, you should set a run date and click confirm.
Universal app campaign best practice
If you are someone who is planning to select an objective for an ad campaign, you can consider two primary options.
1. Cost per Install(CPi)
This will direct the google Ads to push for the maximum number of installations but within the prescribed constraints of your budget.
Here you can bid for the amount of money that you are willing to pay for every installation.
2. Cost Per Action(CPA)
In general, CPA is a pure performance-price model where you pay a fixed amount based on your pre-specified action.
Here unlike the CPI, you can choose from many different post-install actions such as app launch, registration, purchasing a particular item etc.
Your bid should be the price you are ready to pay for each in-app conversion.
How to track conversion for Google app install campaigns?
To quickly ensure the ultimate goal of driving as many installs as possible, Google Ads need to have access to the data of your current users who drive the revenue.
Coupled with the power of Artificial intelligence, Google will keep a thorough track of all the actions that a user does on your application.
An enriched database of all user actions on your app will be specifically created for you. Later on, Google Ads will optimise the data to bring in your app action goals into reality.
You could track the level of user engagement and app usage with the support of Google Analytics.
This is a free tool that helps the user to measure the app usage data and track user engagement. This will also provide the user with reports of in-app events.
Also, you will have the flexibility to segment your users based on their behaviour and target each cluster specifically to incite more user response.
Google recommends putting a campaigning budget at least ten times your target CPA.
Say, for example, if your targeted CPA is 50$, you should at least try to allocate a budget of 500$.
Let's say ten different users from different parts of the globe will be doing some specific action on your app.If any of these actions didn't meet your requirement, it is better to use an app action that gives the desired results.
With each campaign, Google recommends you to give time for at least 100 conversions before introducing any changes.
Google allows you to run multiple campaigns for different goals. It is advisable to set up a new campaign instead of optimising your existing campaign for a different plan.
Tips to optimise Google App Install campaigns
It is an undeniable fact that Google algorithm works best for App install campaigns.
But by implementing slight changes in the way you optimise your Google App Campaigns, it is guaranteed that you reap the maximum benefits.
Let us take a closer look at some of the ways by which you could optimise Google App Install campaigns.
1. Assets should be in sync with your goals
While you are assigning the goals of your ad campaign, make sure that you choose the assets that go in par with your goals.
In a broader sense, we can categorise the ad, dividing the goals into the following three.
1.1 Install Campaigns:
Here app install is your main agenda. You want to run a campaign that points out various pain points among the people and give them a valid reason for the benefit of installing the app.
1.2 Purchase Campaign:
In this campaign, the main goal is to make sure that the users purchase the app. By displaying exciting offers, you could lure your customers into buying the app.
1.3 Retention campaign:
If your goal is to make sure that the users should use your app for a long time, you could include the features to make sure that the users stick on with your app for a longer time.
2. Allocate sufficient budget
Once you have set up the campaign, it might take up to a week for the google algorithm to carefully analyse your ad performance and bring up steps to increase the campaign.
While allocating budget, it is wise to set a daily budget which is 50 times of your CPI target. In case if you find this too much, you should put at least a minimum 10X of your CPA target.
Setting this will make sure that money will not be lost unnecessarily.
3. Regularly update your creative inventory
Adding creative images and texts is very much important when it comes to launching your app campaign.
While designing creatives, make sure that you use different image sizes and video aspect ratio.
You might be wondering why?
The main reason is that if you are only using square images, you won't be having access to portrait or video image inventory which is a speed blocker in unleashing your full volume potential.
4. While adding video give more emphasis on the App experience
It is undoubtedly true that when it comes to attracting leads, nothing works better than video.
And simply because of that one reason, a poorly created video won't attract any app users.
As per Google, while adding video, it is crucial to make it short and crisp. More importance should be given to customer experience.
Videos such as customer reaction after using the app or showing how easily you can fix a big problem could ensure more app conversions.
5. Find out which app events to track
In an app life cycle, there could be endless events happening from installation to conversions.
Tracking all these will be a waste of time.
You should identify certain relevant app events and prioritise it over the others instead of focussing on everyone.
Supporting platforms
Knorex XPO supports different types of app install campaigns which also includes Google's Universal App Install Campaigns. Creating a UAC in XPO has been made simple for you with the following steps:
Using your Account Dashboard, click +Quick Launch

Select channel as Search and campaign objective as App Install
Select Advertiser and Google Ad Account

Select Mobile App's Platform and search for your app linked to this account

Select KPI as Cost Per Install
Select Languages and/or Geo-locations

Add overall and daily budget, and allocate budget to the Search channel

Search and choose bidding strategies (Install Volume, In-App Actions)

Save and go to the Ad Group dashboard,

create a Search Ad Group

for this campaign.

create a Search Creative

from the creative dashboard.
You can also sync the existing UAC campaigns with their exact strategy, optimization, and data from your Adwords Account into XPO, with no drop in the campaign performance.
Bottom Line
If you have launched an app, you will undoubtedly be wanting maximum downloads and in-app conversions.
Through Google Ads app install campaign, you can quickly iterate a campaign that delivers the maximum results. Unlike other in-app advertising platforms, Google App Campaigns allow you to display relevant ads across all platforms owned by Google.
Another great thing is that you could target all these properties of Google from a single place to display your best-performing apps. And through this, you can ensure peak conversions through more tailored bids and tested budgets.