Cross-channel marketing: what is it, and what is it used for? In this day and age, customers are no longer satisfied with just regular marketing efforts from the past, and the proliferation of multiple channels further divides your audience without cross-channel marketing. In this post, we'll guide you through what cross-channel marketing is, and how to make it work for your brand.
What is cross-channel marketing?
Cross-channel marketing utilizes a combination of channels across social media, websites, mobile apps, and other relevant channels (eg: TV/OTT)
It involves combining efforts to market on different channels such that they are working together, making it possible for customers to transition seamlessly across the different channels. The emphasis is on customer experience – your brand should broadcast a constant brand message across the channels, and allow customers to have no trouble in jumping across the different channels, and even between online and offline (should they wish to).
Let us consider an example.
Suppose a lead reads a blog on your website regarding the effectiveness of using a particular product to avoid a specific problem. He will receive a marketing email regarding that particular product later that day which contains testimonies of people who have avoided the same problem by using the product.
The next morning, he will see ads of the product while scrolling through his Facebook.
Assuming this lead decides to purchase it and gets directed to your website, he can choose the option to "Pick up In-Store", letting him pick up the product from one of your brick-and-mortar stores near him.
Here's what happens with cross-channel marketing. Each channel perfectly links in to the previous one (in no particular order), letting this customer have what feels like a seamless experience to him, and he can pick up on his customer journey at any point he wishes to.
What is the difference between cross-channel and multi-channel marketing?
You may have also heard of another term called "multi-channel marketing", that appears to be the same thing as "cross-channel marketing". However, these terms are not to be used interchangeably! They have different meanings, although both include the use of more than one channel for marketing.
Multi-channel marketing simply indicates the usage of more than one channel for marketing – communicating with customers on different channels. However, these channels are separated, siloed, with no passing of information between the channels. In recent times, multi-channel marketing is no longer enough: customers want more than just having the ability to connect with their brand on multiple channels.
Cross-channel marketing refers to the integration of different channels for marketing: using all the channels in a concerted, united effort to present a consistent brand message. In contrast to multi-channel marketing, cross-channel marketing passes data between the different channels to create a seamless customer experience, making it easy if customers want to "cross over" channels.
Tips for creating a compelling cross-channel marketing strategy: how to get started
Cross-channel marketing may seem incredibly daunting at the start – and it can be overwhelming, with so many channels to manage, where should one start?
Let us take a closer look at some of the tips that will help you to find success in cross-channel marketing.
1. Present a unified brand image
One of the biggest difficulties when marketing on cross-channel is ensuring that your brand image remains consistent, and that you can broadcast a single, unified message even across multiple different channels.
If you send mixed or different messages on different channels, your brand image risks becoming fragmented: for example, it would not make sense to advertise a product on Instagram with a certain price, but should the person come across the ad for the same product on Facebook, the price is entirely different. It may confuse potential customers and result in them feeling that they did not have a good experience with your brand.
Therefore, instead of putting your focus of cross-channel marketing on merely the presence of multiple channels, make sure that your brand message is consistent at every touchpoint, and that all channels present a different part of the complete picture that is your brand/company instead of feeling like different brands altogether. For example, brick-and-mortar stores can compliment online shopping for your brand by letting customers pick up their products in-store, or offering support or to se the product in person before deciding whether they should make a purchase.
2. Select mediums that go well together
Due to shifts in user habits and popularity of channels, the pairing of certain channels together can work better than others. By incorporating the channels through which your audience interacts, you will be able to reap the most from your marketing efforts.
Some of the most well known cross-channel marketing pairings are:
Computer / Mobile

Email/SMS
Computer / Mobile is the most popular pairing during work hours (9 am – 5 pm). This has the lowest activity on the weekends.
Email/SMS has gained increasing popularity in recent years. This combination shows extremely high results for cross-channel marketing successes, and is quite useful in getting customers to convert. For example, emails are relatively cheap and easy to design, trading off a degree of lacking personalization for ease of mass promoting: this allows customers to get an overall, brief impression of your brand image, A well-timed SMS afterwards, however, can make all the difference: it can be the little push that a customer needs in order to convert.
3. Personalize your buyers' journey
Personalization is extremely crucial in the marketing sector, increasing conversion rates and brand loyalty, and even driving more revenue if successful.
A suggestion to start would be to build comprehensive customer profiles: customer profiles can help to build an idea of what your target audience likes, their shopping habits, and other information that can be useful to personalizing their online experience. Eventually, with enough customer profiling, you may be able to identify segments within your audience – which allows you to market even more efficiently by improving the product suggestions (or even coupons and discounts!) that you can show them.
Customer profiles are fictional representations of your ideal customers that are derived out of research and data.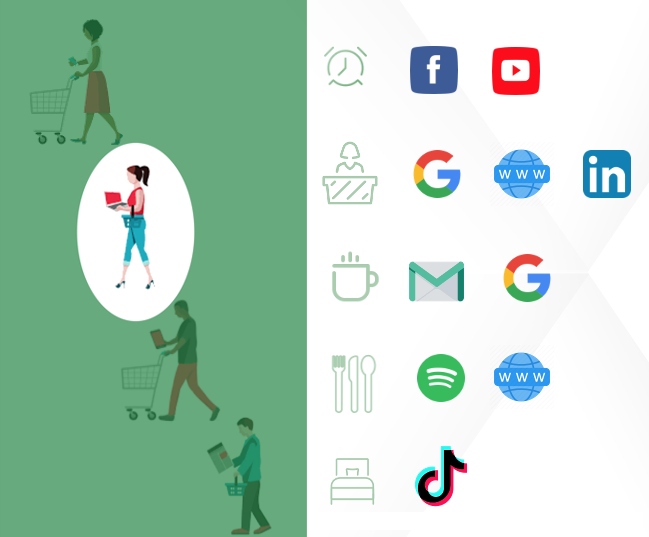 A customer profile should help you get a better idea of your audience: what channels do they like to use (and you can target then with) at different times of the day?
In the context of cross-channel marketing, creating these profiles should give you a better idea of your customers' preferences, buying behaviors, their preferred channels to use when getting information on new products. Overall, creating a customer profile can also give you a deeper understanding of your customers and their potential pain points, which is vital for customer retention and acquisition.
By understanding the basics of what your customers like and what they don't like, you will better be able to deliver a unique tailored experience to boost their interaction with your brand across a multitude of channels.
4. Use the power of social media
Social media is one of the most powerful channels of communication between customers and brands. Almost all companies have a dedicated social media channel as a part of their marketing strategies to build a personal connection with their customers.
Marketing on social media has incredible benefits, driving extra traffic to your website, generating increased leads and customers, and even increasing brand awareness. Social media platforms also have the added ability to engage your audience using visually stunning images and enthralling content using visual ads on channels such as Facebook, Twitter, Instagram, and LinkedIn. By making use of cross-channel marketing to market across various social media platforms, companies will then be able to
The average US adult spends 2 hours on social media every day, with over 70% of people saying that they will recommend businesses that they have a positive experience with on social media to their network. This, in turn, will help to increase brand awareness, improve the engagement and boost the number of conversions.
5. Retarget existing customers
Retargeting your existing customers is an excellent option when it comes to customer retention as well as increasing your sales. Even if your customer doesn't make an immediate purchase seeing your ad, they may follow it up on Instagram and buy the item on a special promotion day or when there is an additional discount!
You can retarget your customers with social media advertising, Google AdWords or other advertising networks.

By using Facebook pixel on your website, you can retarget your customers by showing relevant ads on Facebook.
6. Invest in customer support
Customer support is one of the most crucial steps to be undertaken to retain customers.
Although consumers in the past focused more on other services offered by companies, such as low prices and quality service, customer service has become increasingly important in recent years. In fact, an overwhelming majority of customers indicated that customer service can be a major source of frustration for them. Seeing that most customers (41% as indicated in this survey) are already irritated when reaching the point of having to call customer support, due care must be taken to ensure that any customer related issue will be resolved as soon as possible.
When using cross-channel marketing, it is likely that a customer will expect there to be separate customer supports for each channel, allowing them to get customer service conveniently without having to approach other channels. Investing in separate customer support for each channel – such as teams to take note of and answer any queries on the different channels – will be greatly beneficial for ensuring a good cross-channel marketing experience.
7. Analyze marketing campaign results
Once you have gathered all the data from your cross-channel marketing campaigns, it is essential to analyze the data and draw conclusions on which parts of your marketing campaigns are working well, which parts aren't, and how they can be improved using this data you've collected.
Ask yourself these questions:
Am I targeting the right audience?

Is my social media strategy effective?

Was I able to retain my customers?

Does the campaign give out the same message on all different platforms?
Knorex's XPO helps in creating unique cross-channel marketing, optimization and reporting experience by setting up and monitoring your campaigns across different channels in one glance through unified reporting. And what's more, apart from simplifying the manual processes, XPO automates other processes using our top-notch KAIROS AI, making real-time bidding much more optimized – not only reducing the time spent by humans to do so, but also maximizing the use of your money and reducing excessive spend.
If you'd like to start using cross-channel marketing, but don't know where to start, feel free to approach us for a demo!
Benefits of cross-channel marketing approach
Is cross-channel marketing really worth all the hassle of setting up and monitoring? The answer is definitely a resounding "yes". Here's a list of why:
1. Build a strong sense of brand identity
By being on multiple channels, you can significantly build brand awareness to reach out to maximum numbers of people – branding also increases in effectiveness when the same brand image is maintained across different channels. This will eventually help to improve the reputation and awareness of your business, making it more trustworthy among your customers.
2. Demographics are no longer a limiting factor
If you are targeting a particular demographic, your campaign won't be successful unless you are targeting them on the channel that they are present on – audiences tend to be siloed, separated from the content of other channels. On the other hand, marketing on multiple channels helps you to achieve full saturation, while ensuring it's a cross-channel strategy and not just multi-channel (refer to above for the difference between multi-channel and cross-channel marketing) gives customers (and potential customers) the best experience.
3. Reduction in cost
Advanced algorithms and automated bidding do the job of calculating marketing costs. With an effective multi-channel strategy and proper management of their campaigns, business owners can find the right mix of channels to ensure the lowest CPA.
4. Connect with your customers multiple times
The good thing about advertising through several channels is that you can engage with your customers through multiple channels. Typically, the more a company engages with a customer, the more likely they are to make a purchase, through consistent efforts and messages.
Through cross-channel marketing, you are improving the chances that your advertisement reaches the right customer at the right time.
5. Focus on channels that are most effective for your business
Marketing on different media allows you to identify:
Which channels are most useful for your business.

The number of engagements of the medium in order to determine which one gives the highest ROI.
As a result, you only have to focus on specific channels that will yield a better result for your campaigns.
6. Better persona alignment
Using different channels allows you to target specific demographics and behaviors. Some people prefer television or emails, while social media such as Facebook, Instagram etc. work better for others.
Cross-channel marketing examples
Following are some of the brands that effectively use cross-channel marketing.
1. Starbucks
The company is an excellent example of a cross-channel marketing campaign that has delivered positive results.
Starbucks updated its website and released television commercials along with their campaigns on social media platforms as well.
2. KFC
This food brand created a strong customer experience with cross-channel marketing. The work included marketing on numerous Google related channels.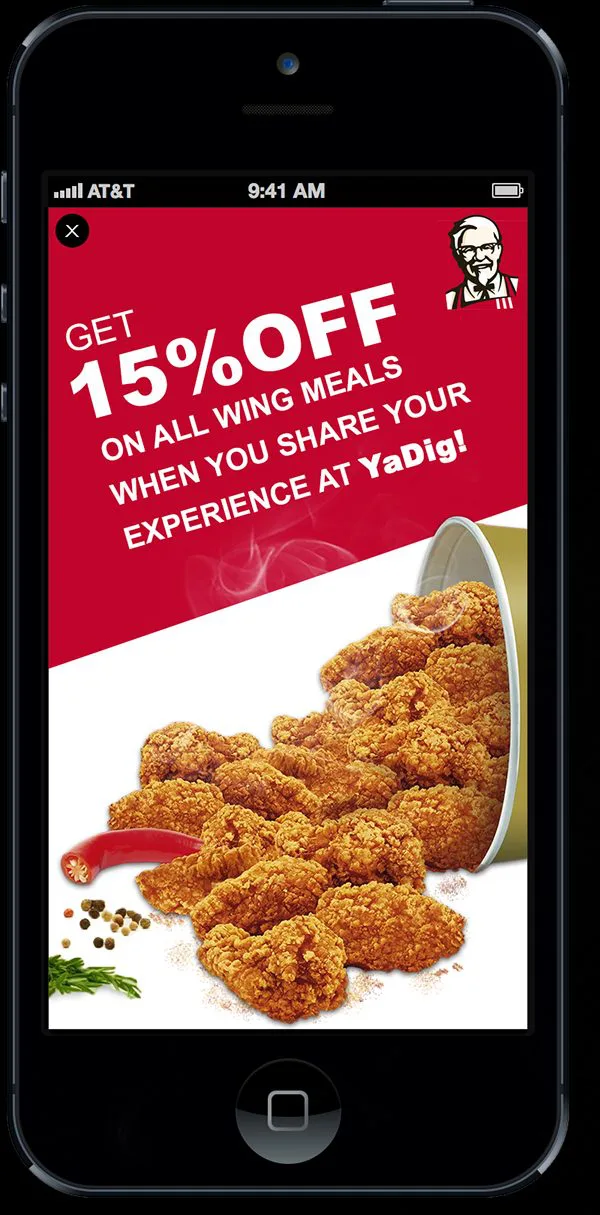 Source: behance.net
3. CASIO
The marketers of this famous watch brand have made all the efforts to streamline their advertisement across multiple channels.
Final Words
Cross-channel marketing is the most effective way to reach out to your customer in the present digital age. It has almost limitless capabilities from creating awareness to generating leads and ensuring high sales.
Here, not one medium but several different mediums of advertising work together to create a unique and tailored experience for the customer as well as a wonderful marketing opportunity for the seller.
As a marketer, it is crucial to gather the data derived out of different sources and analyse it to formulate the right marketing strategy suited for your business.
Check out our article on "5 key benefits of cross-channel marketing" to learn more about how cross-channel marketing can improve your current marketing campaigns!