Digital Out-of-home (DOOH) advertising may have experienced a slowdown in the past year due to the Covid-19 pandemic however, it is steadily picking up its pace in recent times as countries around the world start to open up. People are less apprehensive about leaving the house as everyone gradually learns to live with the virus.
According to WARC's latest report, DOOH is forecasted to be the second-fastest growing medium in 2021, with ad spend rising by 20.2%. In spite of the dip in 2019-2020, eMarketer predicts a bounce back in DOOH ad spend in 2021 by an increase of 19.2% and would continue to increase with DOOH contributing to 41% of US ad spend in 2023.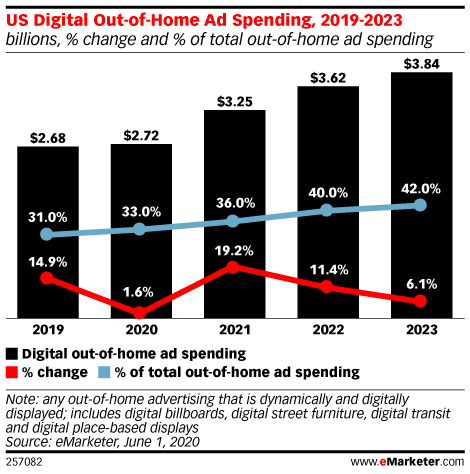 Photo credit: eMarketer.com
Technology has made OOH advertising way more efficient than before with Digital OOH (DOOH) innovations. DOOH ads are dynamically displayed on digital signages connected to the internet – this includes digital billboards, kiosks, wifi hotspots, tablets, digital street furniture, and other digital place-based display. Previously, OOH has been used for upper-funnel branding, mainly for the purpose of awareness but now that it has become more digitized and data-driven, businesses can use DOOH to reach high-intent customers with more targeted advertising.
Why DOOH now?
In spite of the dip, OOH spending has been increasing gradually across Q2 to Q4 of 2020.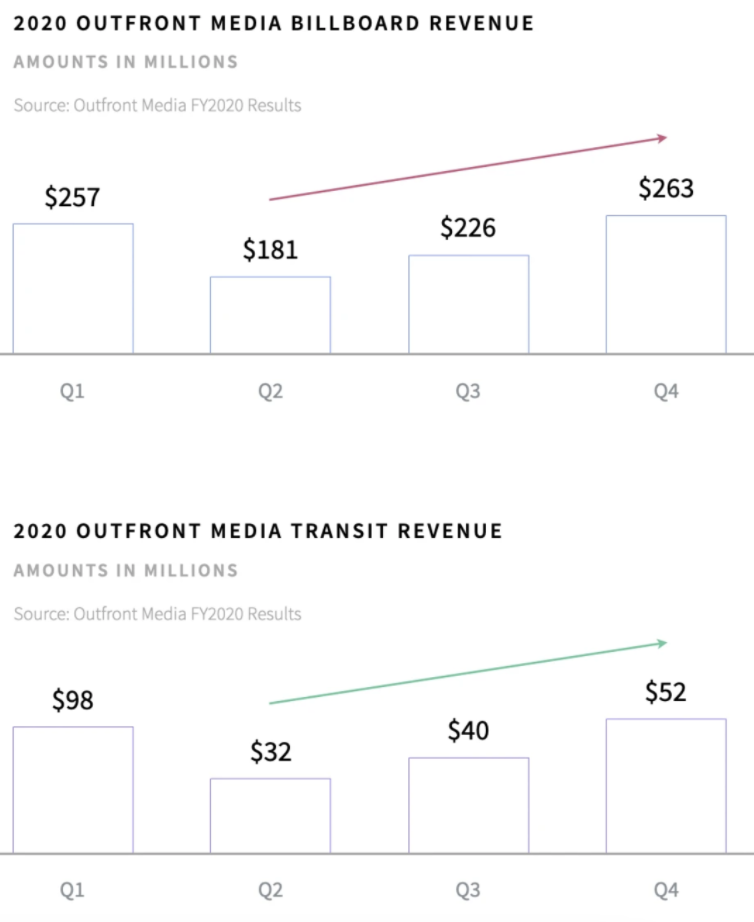 Source: http://www.billups.com
As DOOH picks up speed, the pandemic has changed consumers' behavior that fueled the growth of DOOH in 2021 as seen in the infographic below from a consumer survey:
Most prominently, consumers are noticing OOH ads 45% more than pre-pandemic days and 68% of consumers are suffering from digital device burnout. 65% of consumers prefer to leave the house as often as possible and there is also an increased demand for outdoor experiences.
A study by Nielsen (2020), also found that: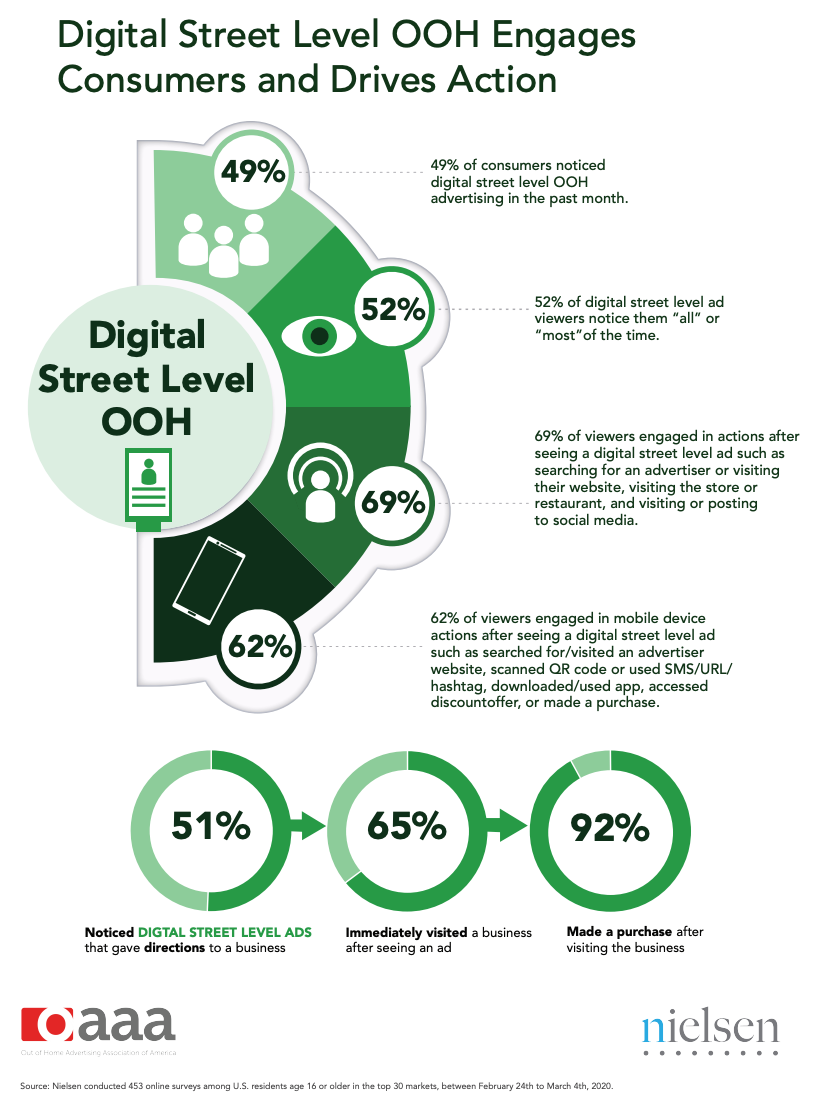 69% of viewers engaged in actions (such as searching for an advertiser online, visiting the physical store, visiting or posting to social media) after seeing a digital street-level ad.
51% noticed digital street ads that gave direction to the business, 65% of whom visited the business after seeing the ad and 92% made a purchase after their visit.
With that, marketers are seizing the opportunity to utilize DOOH mediums today. Programmatic has proven to make DOOH a more sustainable medium compared to traditional OOH content as it provides marketers with greater speed, flexibility as well as more targeting capabilities with the power of analytics and real-time data. Integrating DOOH into your marketing mix allows you to blend physical and digital channels together to create a robust marketing strategy.
Benefits of DOOH
In summary, the benefits of DOOH includes:
A more

targeted

and less intrusive media channel

targeted advertising yet less intrusive on personal data as it is based largely on environmental factors such as location and time on demographics identified

More flexibility and lower management costs

Minimal installation fees compared to traditional billboards
To rework designs or drop a campaign altogether as compared to a traditional OOH billboard ad plastered across town
DOOH campaigns are enhanced with programmatic advertising capabilities:
With data, programmatic make DOOH campaigns more cost-effective with personalized, relevant, and engaging messages. Marketers can leverage targeting capabilities and its ability to select campaign details such as targeting, placement, and schedule. This offers fluidity to manage ad spend, adjust parameters, or pause campaigns in response to changes all in real-time. Especially for DOOH, programmatic can trigger the delivery of creatives based on data of environmental factors such as weather, market performance, results of events, and more. This allows them to convey contextually relevant to a specific target audience at an appropriate time. With programmatic, marketers would pay for impressions and get detailed analytics to track campaign performance.
Kickstarting your Effective DOOH Campaign (+ Impactful ways to leverage DOOH)
like all advertisements, DOOH ads need to be strategically placed and an interesting DOOH campaign will result in engagements such as digital searches or viewers visiting the store. Here we provide a step-by-step guide to create your DOOH ad campaign and tips to achieve impactful, measurable results out of your campaign using programmatic.
#1 – Plan the campaign
a) Define your goal
Every campaign needs to have a defined goal or main objective. This will keep marketers focused on the purpose of their campaigns to keep your reporting clearer and focused on the appropriate metric to measure KPI and ROI.
b) Define your target audience
Choosing the right target audience is vital as it will direct the course of your campaign. Depending on your DOOH type, you may speak to several segments of your audience (but remember that too many will dilute the message!). Marketers need to understand each of their pain points or what attracts them and craft the appropriate tone and message to appeal to them accordingly.
Such intentionality allows your message to speak directly to each segment with a message that is relevant to them. Creating audience personas will definitely help you hone your content.
c) Know where your audiences are
This is vital in a DOOH campaign; you need to understand your target audience's needs and buying behavior in a targeted locality and match it up. It is also important to know where your target customers are, how often they walk by a certain DOOH, and the optimal time to showcase your DOOH.
#2 – Producing creatives
Now that you've defined your campaign objectives, identified your target audience, and understood them thoroughly, the next step is to produce the creative. The ad creative plays a significant role in the success of the campaign to capture the user's attention and turn it into conversions.
In DOOH campaigns, video content prevails. Branded videos are recommended and usually used in DOOH, however, they are inevitably expensive to produce. Nevertheless, with whatever medium you use, the objective of an ad is to result in a subsequent action or reaction.
Therefore, with whichever medium you adopt, make sure that your content checks these boxes:
A clear message
A direct call-to-action (CTA)
Visuals that are bold, memorable, and not too complicated
To further enhance your creative, pair Dynamic Creative Optimization (DCO) with DOOH. Research found that contextual DOOH messages delivered a 49% increase to overall effectiveness across metrics, a 30% increase in action, sales, consideration, awareness as well as an increase of 44% increase in driving behavioral change. Contextual DOOH can ensure that your campaign remains relevant across locations and conditions. At the end of this guide, we share more tips to boost your DOOH creatives.
#3 – Purchase ad space on your media buying platform
At this stage, your campaign is ready to launch! Here you need to decide on the parameters of your campaigns such as your budget, schedule, and location.
To boost your campaign's effectiveness, utilize these tools to optimize your DOOH ad:
Footfall Attribution
Footfall attribution is a method used for correlating digital marketing campaign impressions to actual visits to physical stores. This feature allows you to analyze the attribution data coming from your DOOH campaign leading customers to their physical stores.
Target and retarget with Location-Based Advertising (LBA)

Boost your campaign with LBA for mobile retargeting. Geofencing is one of many LBA techniques that allows you to target customers within a predefined area. Areas are defined based on the longitude and latitude information that is derived from a user's mobile device. It creates a virtual boundary based on a specified radius in order to reach customers around the area via their mobile device to drive them to your store.
Once you've maximized your DOOH campaign with these tools, upload your creatives and you're all set to launch!
#4 – Campaign management: Test, track and optimize
It's important to constantly test and optimize your content based on information from your data. Fortunately, the software used to run DOOH displays delivers insightful reports that include key metrics for campaign management, tracking, and optimizing in real-time.
Furthermore, tools like footfall attribution and geotargeting can provide you with performance data to give your a holistic overview of your campaign success. These two features work hand in hand to gather data and assist you in delivering contextually relevant, timely messages to your target audience. With programmatic, you can study data and make tweaks accordingly to optimize your campaign and achieve greater ROI.
Footfall attribution reporting
Footfall attribution is beneficial for your ad campaign management as it contributes to data collection and attribution. Location data accuracy is crucial in footfall attribution. This information can be obtained via technology like GPS, WiFi, Bluetooth, geotargeting, or proximity targeting.
AI technology then synthesizes location-behavioral data that is used to understand footfall trends. After which, it produces attribution reports that include information such as prospects' age, gender, income, interests based on their browsing habits and keywords searched, device type, and geolocation of the customer.
Location-based data to measure
It is important to ensure that your DOOH+LBA advertisements can be tracked with the ad metric that you've designed. The metric can include cost per click, cost per conversion, sales, and such to measure and track actions that have been taken or engagements with the brand after viewing the ad.
Tips to engage the audience with your DOOH
Engage them with mobile
Nielsen (2020) found that 62% of viewers engaged via their mobile devices after seeing a digital street-level ad such as searching for or visiting the advertiser's website, scanning the QR code, downloading or using the app, accessing discount offer, or making a purchase.
Create an interactive experience
QR codes or NFC technology can be easily integrated with simple, straightforward CTAs on the ad yet extends the DOOH experience to the viewers' mobile phones. It encourages engagement, gathers more information to track campaign performance, makes the experience more interactive and advertisers may also obtain first-party data to reach potential customers.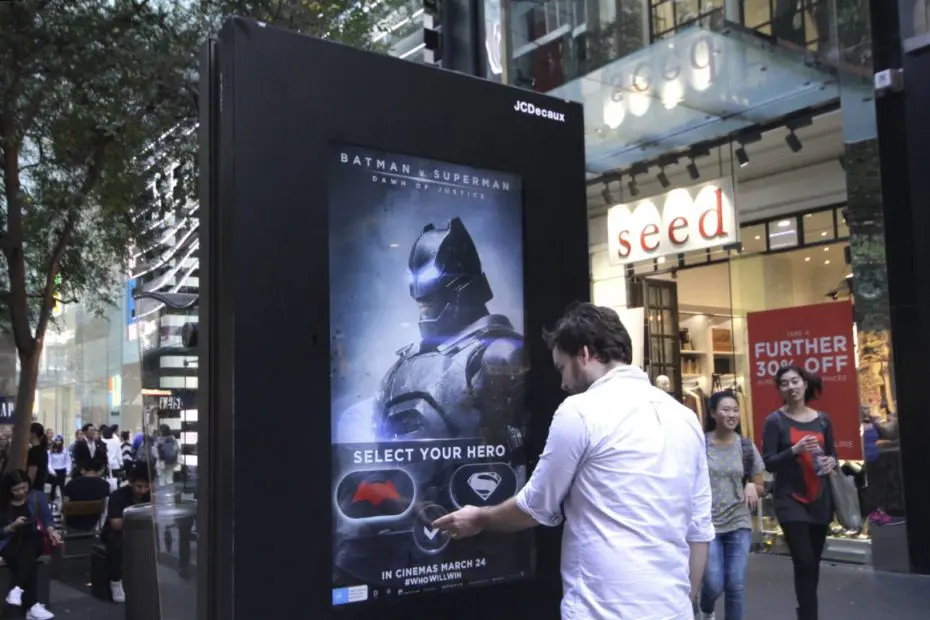 Other interactive experiences can include using touchscreen or motion sensors. However, as much as an interactive experience can be engaging, it is always important that it aligns with your initial campaign objectives. Other factors to always consider with DOOH include environmental factors, context, and what you want your audience to get out of your content or do next.
Offer benefits to garner interest
The above medium can be bolstered when it offers viewers incentives such as vouchers, a lucky draw, discount codes, or free content. Benefits can also come in the form of knowledge or information that would be meaningful to the viewer or even when the ad has piqued the audience's interest to find out more.
For example, Sony offered free music downloads using NFC at bus stops as part of their DOOH campaign.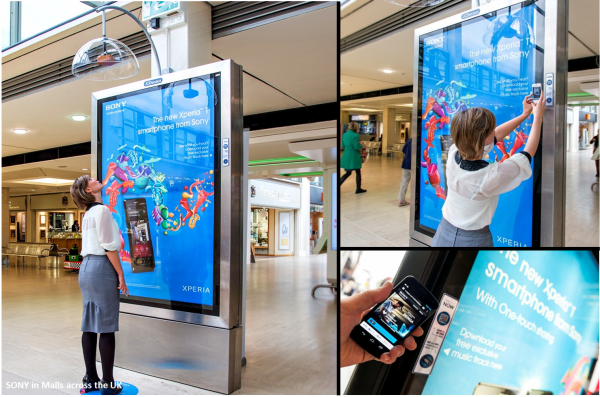 Photo credits: http://jcdecaux.com
Create sharable content to gain traction online
Creating sharable content can also help to gain traction online and bring awareness to your campaign. Sharable content is content that contributes to the social currency of the user to motivate organic sharing on social media.
An example of good sharable content that reached social media is Disney's DOOH campaign, "Show Your Disney Side".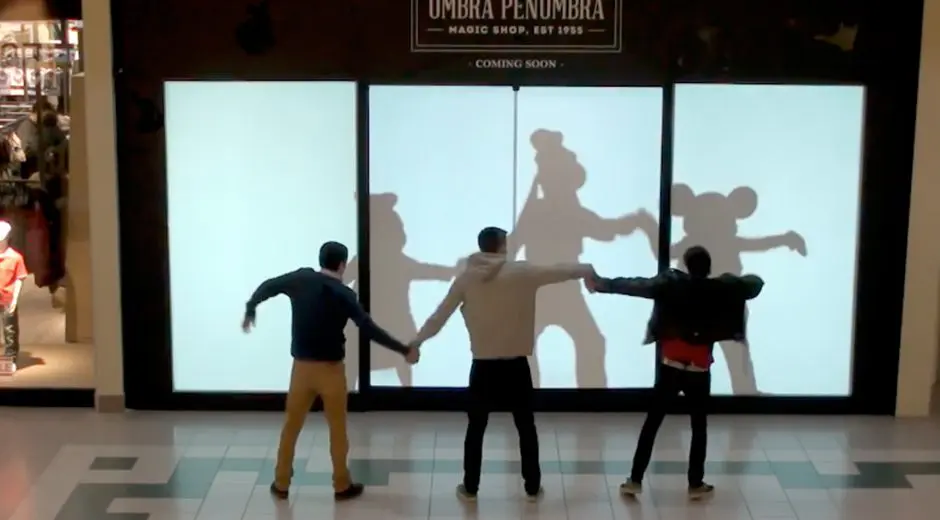 Image Credit: GrandVisual
Disney created an interactive DOOH experience that casts a shadow of a Disney character when pedestrians walked past. The shadows mimicked and interacted with participants through a multi-projection system. This campaign successfully encouraged viewers to share on social media and garnered over 5.9 million shares around the world.
Summary
DOOH campaigns are the most effective in a multi-channel campaign strategy with a marketing mix that includes social media and mobile location-based advertising. Combined with other digital marketing activities, it would bolster the campaign's engagement and awareness beyond personal digital devices. DOOH ads are an opportunity for brands to create something memorable and impactful. Take advantage of physical space, be creative and capture attention to make a strong first impression.