Business practices have evolved over the time. The use of internet to promote services and products has been a revolutionary marketing idea. Maintaining direct and digital interactions along with balanced design and customer experience is essential. And that's what omnichannel marketing is all about.
Where companies reached their customers through emails, phone calls or store visits a few years back, they now interact with them on a daily basis through digital media. These include emails, social media, company websites, and mobile advertising.
It is therefore important for brands to have a unified approach for maintaining their customer interactions.
The article discusses the importance of Omnichannel digital marketing in the eCommerce sector and key strategies for implementing it.
What is Omnichannel marketing?
Digital marketing channels include:
Search (mostly Google)

Social Media

Display
Omnichannel digital marketing is defined as providing seamless customer experience across all channels. These include both online marketing channels like, social media, mobile advertising, e-commerce websites, and offline channels like print-based advertisements, mails, storefront, billboards, physical interactions, etc.
What started off as a single shop buying place is now a journey that spans multiple channels and multiple means of interacting with the buyers.
The idea is to give the customers more control over their buying process. Customers can now interact with their chosen brands anytime and anywhere. Omni-channel marketing involves the integration of digital interactions like websites, social media, mobile advertising, etc.
Digital marketing channels are an important medium to transfer the brand and product information to the customers.
Searchers use various devices like smartphones, laptops, desktops, computers or even smart TVs to interact with their favourite brands. It can, therefore, be a challenging task for marketers to create a seamless interaction experience through all these channels.
Additionally, marketing strategies now focus on creating personalized communications with clients through these channels and devices. It is perhaps safe to say that an organization not utilizing this technology is losing out to its competitors.
How does it work in eCommerce?
Most leading marketers and brand owners agree that they get increased customer engagement when using omnichannel marketing strategies. Additionally, since these campaigns are more captivating for the audience, they result in higher revenue generation for the brands too.
Various group studies have been conducted to prove the effectiveness of omnichannel marketing vs single-channel campaigns.
Increased customer loyalty is an added bonus. Buyers find it more comforting to repeatedly deal with brands that give a personalized approach. And repeat customers are the easiest to convert. All marketing managers understand the importance of retaining their loyal customers.
A survey conducted by The Harris Poll in January 2019 states that 63% of customers in North America and UK expect personalization from brands. (Source- eMarketer.com)
It is hence clear that a significant percentage of consumers are willing to have their personal data utilized to get meaningful buying experience.
With the growth of technology, it is becoming crucial to target customers through a range of integrated touchpoints, as a part of delivering an omnichannel experience.
Omnichannel marketing vs Multi channel marketing
Multi-channel marketing, as the term states, is about marketing that utilizes more than one channel. Almost all businesses (even single-person entities) use a multi-channel approach as a part of their marketing campaign.
The target here is to have as many touchpoints as possible. The objective is to promote the brand and push the advertising message numerous times to a big group of receivers.
Omnichannel marketing differs in its approach owing to the "personalization" factor. It needs more coordinated efforts and an understanding of the individual path that each customer takes in their buying journey.
Multichannel marketing is, therefore, a linear connection between the customer and the brand. Omnichannel marketing, however, is a multidimensional or rather a more fluid approach supporting the customer journey.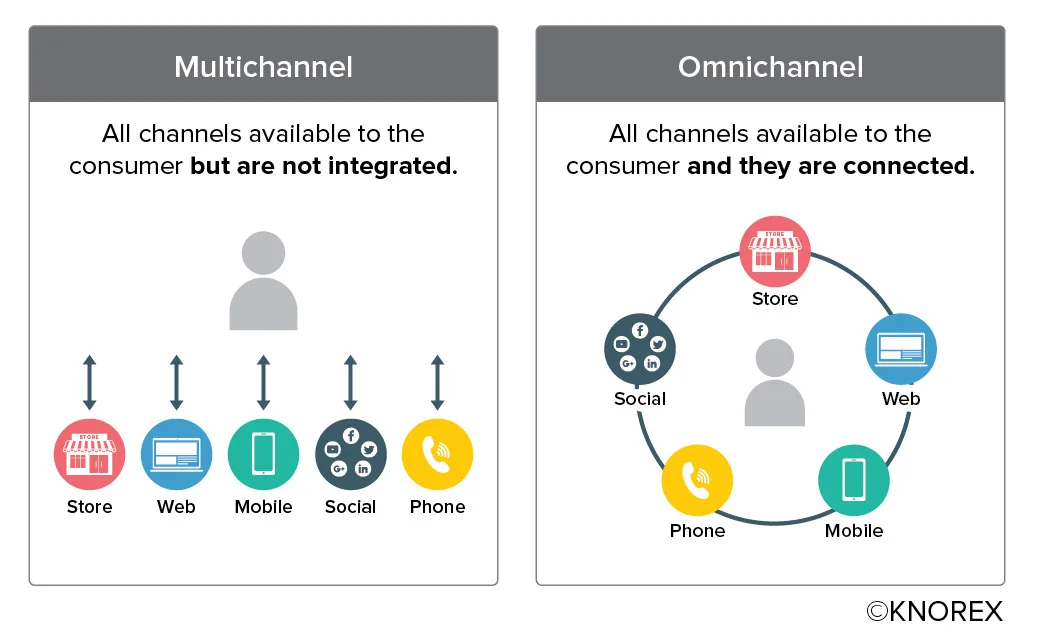 Omnichannel approach understands the importance of a strategized, segmented and personalized approach to a client's buying path.
Let us look closely on some of the differences.
1. Experience of the customer
The multichannel method of marketing is used to spread the news through a variety of different channels. Marketers who are using this method of marketing may employ two or three different channels to engage with their customer. For example, through email marketing, social media and mobile ads.
On the other hand, the omnichannel method of marketing uses an integrated approach in which several different channels are streamlined to work hand in hand to make sure that the customers have a wonderful experience through every channel.
Here importance is given to strengthening the relationship between the customer and the brand.
2.Understanding where to put the efforts
In a multichannel approach, several available channels are used to target the customers to boost the brand image.
On the other hand, the omnichannel approach is a more intelligent approach in which the marketers will first try to understand where to put the efforts.
Benefits of Omnichannel Marketing
Let us take a closer look at some of the benefits of Omnichannel Marketing.
1. Greater accuracy of customer behaviour
The unique methodology of omnichannel marketing enables you to collect data from a multitude of different systems and channels such as social media, shopping carts, mailing lists, PoS systems, device IDs etc.
With this, you will be able to have a broad view of every customer who engages with your brand. The data will help you to analyze the behaviour, likes, dislikes and interests of your customers which in turn helps to give a boost in the number of conversions.
2. Enhanced brand visibility
By using the strategy of omnichannel marketing, your brand will be visible across all the channels such as social media, email advertising, mobile advertising, in-store advertising etc.
The advanced data analytics helps you to choose the method which works best for your customers. Say, for example, more social media ads will be shown to someone who spends more time on social media.
3. Helps in segmenting your customers
For any digital marketing campaign, segmentation of your customers is the golden key to success.
This information received through multiple channels will help you to create customer segments for a better target approach.
For example, if you have a customer who is searching for baby products, he/she will be happy to see the latest list of products through email.
4. Highly effective in cost
As a marketer, you will receive innumerable information through different channels of advertising.
With the various pieces of information received, you will be able to design your campaign to make sure that it is efficient and entirely cost-effective.
You will also find all channels to choose based on the result that is derived out of the information.
For example, while targeting customers who are between age group 20-30, Facebook ads work better than email marketing. The markets can focus on FaceBook rather than spending too much on other forms.
5. Helps to synch various channels and departments
Omnichannel marketing has the power to streamline the conversation across various channels.
Suppose a customer is interested in a particular product. In that case, you can leverage the power of social media marketing and mobile ads to showcase the product in the best possible way to encourage the customer to purchase the products.
6. Target specific Audiences
With proper customer analytics, you can target the specific audience who are most likely to purchase your product rather than spreading across all categories of customers.
Say, for example, if you are launching the latest collection of car accessories, it is better to target the customer who owns a luxury car rather than focussing on the entire list of your customers.
Implementing Omnichannel Marketing- Top 10 Strategies
1. Do what's best for the customer
The world of digital marketing is all about customer experience. The entire campaign needs to focus on consumer needs and what works best for them. Customers should find it easy to get the information they need about the brand or the product.
Omnichannel digital marketing effectively collaborates efforts from all the departments within a company.
Team members within an organization can provide valuable insights to overcome the hassles in this approach.
2. Use your data
It's all about having a data-centric approach. Utilizing your data efficiently is the crux of omnichannel marketing. Organizations should try and compile data from multiple sources including user profile, their buying, and search behavior (online), demographics, etc.
Most leading organizations use CRM (customer relationship management) software to record their consumer data. It is important to understand your target customers and how they interact with your brand.
Overhauling your consumer experience by interacting with all the channels is important. Ask for customer feedback through their journey.
3. Targeting your messages and customer segmentation
Omnichannel marketing is largely dependent on the right targeting and personalization of messages. Segmenting the subscribers into categories and groups makes it easier to send messages.
Categorization can be done on the basis of the customer profile (demographics, age, gender, location, etc), campaign engagement levels (how much the customers interact with the channels), and shopping behavior.
Automation can be set up to send relevant messages to the right customers at the right time and through the right channel. Modern techniques like location based mobile advertising could be applied to get optimum results.
4. Customize the journey
Data analysis and creation of customer segments help in getting familiar with the consumer's journey. The next step should always be about the creation of personalized messages to send to this segmented group.
For example, if one of your groups shows a strong inclination towards sales and discounts, prompt them every time an offer is set up. Target them with messages that not just draw their interest but work on getting the conversions.
Use innovative options and technology to personalize your ads on different channels.
5. Customer care
Offering help to a customer in the right manner should not really look like a sales pitch. Customer care experience should always be about convenience and comfort. Sometimes, sales message pop-ups that are not properly targeted can be annoying and can create a negative customer experience.
Similarly, systems that are poorly integrated with your omni channel approach are a disaster. Remember that customer issues are a part of the business. Your channels and automated systems should offer help options that are convenient to go through.
Make sure that your eCommerce websites have sufficient information online. Similarly, ensure that you plan your journey with reliable SEO service providers for well optimized websites and content.
It is also recommended to integrate social media and live chat options into your customer care solutions.
Following are some important tips to enhance smooth customer care operations:
Reduce your social media response time:

All customers want instant solutions to their problems. Most customers expect their social media feedbacks to be resolved immediately. Make sure that your teams are set up to acknowledge the social media mentions and resolve the issues at the earliest.

Live chat assistance:

Most customers prefer to have a live interactive chat to resolve their issues. These may also be integrated with your social media platforms. Using reliable live chat software solutions is an efficient way to handle such problems.

Customer self-service:

Create a well-researched and comprehensive FAQ that's easy to navigate.

Email automation:

Emails are an effective customer service tool. They can address majority of customer queries and are considered an "easy to manage" solution by the users.
6. Seamless payments
Use the right payment gateways to avoid customer inconvenience. This includes the time lapse between the customer ordering online and physical pick up from the store.
7. Track customer journey across all channels
The best part about omni channel marketing is about getting a true understanding of the pain points of the customers, their profile data, behaviour, etc. In fact, every single tap, swipe and click on an app can easily be tracked.
When you offer multiple platforms for the customers to engage with your brand, being responsive on each on these channels is necessary. It is important that all your platforms are integrated and the customers get consistent services across each.
Trackings can be set up on off-domain platforms using URL builders. Similarly, email marketing tools can track the delivery and receipt of email communications. Pixels can also be used for the purpose.
Domain side-tracking, on the other hand, can be used to get data like IP addresses, etc which is further used to generate a user profile.
8. Focus on mobile services
This is the Gen Z we are talking about. Support that's not available on mobile is hardly acknowledged. Smartphones are the most popular media being used by consumers today to make purchases.
It is therefore important to keep your mobile customer service updated. Make sure that your websites, FAQs, self-help videos are accessible on mobile devices. Make sure that your customer service tabs are appropriately displayed on mobile apps. Similarly, offer easy dial-up- support and get single tap assistance for your customers.
9. Establish trust
Consistency is important in the world of digital marketing. It s about enhancing the user experience to a level where they automatically relate to a brand name and trust it. If you can't deliver efficient customer support, you end up losing trust.
10. Improve over time
Test, analyze and improve on your omni channel marketing strategy over time. Collect data through your journey and analyze it to make your campaign effective across all channels and platforms.
This means constant testing of messages, studying the target audience, re-segmentations, images, etc.
Keep updating your customer experience to make the best of this awesome marketing strategy.
Knorex XPO™ provides automated omnichannel marketing & optimization to help you manage all your campaigns with ease. Get in touch with us to ask for a demo today!
Final words:
As both organizations and consumers continue to have a stronger grasp of digital technologies, devices and channels; the need for Omni-channel marketing can no longer be ignored.
Companies understand the use of customer data and its integration with their omni channel campaigns.
The goal is to enable cross channel functionality using data from the entire digital marketing ecosystem, track and target the messages through all channels and devices and then optimize the campaign performance.
After all, it is about making the user's journey convenient!