According to the study carried out by Association of National Advertisers (ANA)in 2018, 83% of the in-house agencies benefited from cost efficiencies. This shows that most brands will benefit from saving costs when adopting programmatic in-housing approach. Hence, picking the right adtech stack that fits your current stage and business needs is an important step towards your in-housing effort.
With the right stack in place, you should be able to automate many of your repetitive work while achieving the kind of scalability and efficiency needed on one hand, while realizing performance gain and results on the other hand.
What is an Adtech stack?
There isn't a formal definition or agreed structure of an adtech stack, simply because the technologies and tools are still maturing, and depending on which side (buy or sell) of the ecosystem you are asking, you will arrive at different variety. So, let us define it based on the buy-side or typically called demand-side where an advertiser or an agency who wants to use such platform/tool called a DSP (demand-side platform) to buy ad space and optimize against their performance for their advertisements.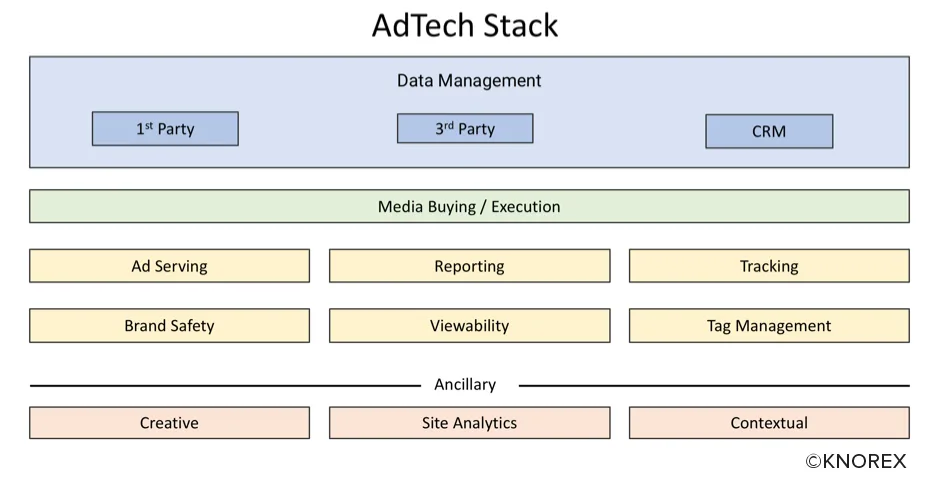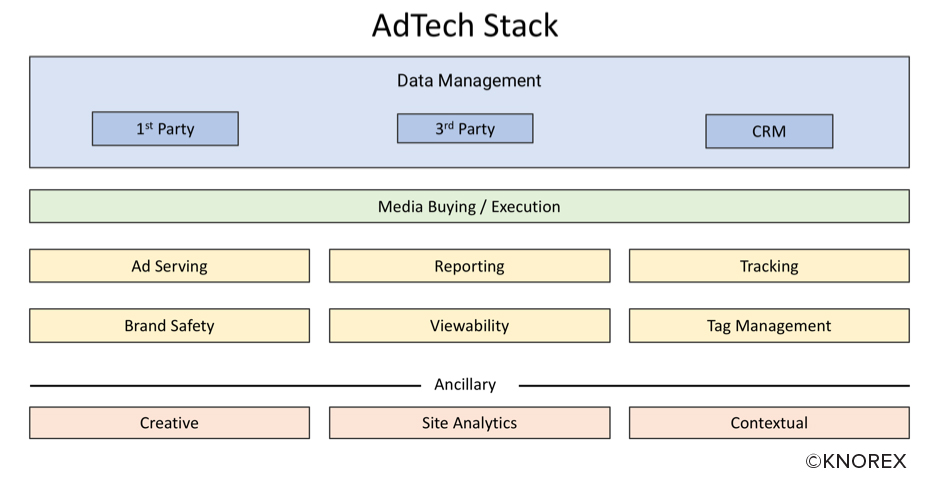 We identify these as the essential components that you will require as part of your adtech stack to allow you to carry out your online advertising effectively and efficiently.
Here is a quick look of what each of the component does:
a) Data Management comprises of 3 categories:
First-party. Audience pool collected on your site.
Third-party. Data purchased through different data providers.
CRM. Where you store your customer data (this part of your first-party data).
b) Media Buying / Execution. This is where you go about in buying the media inventory or ad spaces for placing your ads.
c) Ad Serving. With the ad server platform, you can deliver ad content across channels and devices.
d) Reporting. In this category, you can generate metric reports like impressions, clicks, click-through rates etc. to get a panoramic view of the campaign. You can also share reports among team members via link or email.
e) Tracking. To evaluate and measure your campaign performance, you can track interactions like impressions, clicks, conversions etc. between viewers and the ad.
f) Brand Safety. You can keep your brand's reputation safe by serving ads on safe sites and preventing and blocking ads on sensitive categories
g) Viewability. According to Interactive Advertising Bureau (IAB) Standards, if an ad is seen for at least 1 continuous second, the impression is said to be viewable. Before bidding, you can check historic viewability to ensure minimum 50% is fulfilled.
h) Tag Management. This is where you can easily implement, manage and maintain your tags on your website to drive better customer experience.
Then there are also ancillary tools which may be essential or otherwise boost significantly in terms of your productivity or effectiveness when it comes to your campaign execution and performance:
Creative – You can create different types of creative designs (display, native, standard banner, Facebook ads, video ads, search ads) for campaign ads.
Site Analytics – This is where you can analyse your visitors' behaviour whenever they visit a website. Not only it increases website traffic, but also gathers insights on user behaviours and needs to better understand them and improve web presence.
Contextual – Here, you can target sites with right keywords matched by advanced machine learning algorithm. When a visitor visits those sites, they will be shown relevant ads based on those keywords present in the content of web pages.
The top most diagram shows the typical components and/or players within the ecosystem, and how they interact with each other, to enable an advertiser or media agency to place an ad and show it to an end user or consumer.
A brand who wants to advertise online to any audience worldwide, is now able to operate a demand-side platform (DSP) or engage a media agency, who in turn will operate a DSP, to connect with the ad exchanges, or ad networks or possibly directly with a supply-side and/or media owner/publisher directly or indirectly to reach out to their target audience. There are different possible interactions that could happen between the different players. Nonetheless, getting a fully connected and coherent interactions between the players within a tech stack will be critical to achieve the necessary efficiency and effectiveness.
Assessment Criteria for Selecting DSP
These are the key criteria you will need to assess of any adtech stack that you are looking to adopt:
COVERAGE. Media inventory and data reach must sufficiently cover worldwide audience, data diversity, platforms (web, mobile, android/iOS), devices (laptop/phone/tablets) and ads channels (social, search, display etc.) as audience could be anywhere at any time.
CONTROL. Powerful and rich set of features and capabilities to support ad/site placements, scale up/down, targeting options, campaign execution, and brand safety.
PERFORMANCE. Demonstrated the ability with the track record to perform at scale and deliver results with consistency or predictability.
FLEXIBILITY. Technological innovation, smart automation support and multitude of options to support rapid experimentation and execution sophistication.
COST. Enable streamlining of operations, eliminating intermediary overhead, low total cost of ownership and pricing transparency.
There are various adtech stacks out there in the market that may fulfil these criteria varying degree. Understanding your business need and priority will be important in picking the right one that best suit you.
If you are looking to adopt an adtech stack, request for a free XPO demo to see if XPO can fulfil your advertising need.
Alternatively, if you are looking to outsource your online advertising campaigns and/or looking to improve your advertising campaign performance and ROI, get in touch with our specialists to see what we can do for you.