As automation and AI/ML mature in its application, leading brands are increasingly seeking for an automated and multi-channel advertising solution to churn out personalized and custom advertising options as rapidly as possible to provide more personalized marketing messaging while keeping their engagement with prospects fresh and interesting. Additionally, the pandemic event has only accelerated the adoption of digital marketing as an integral part of almost every business, thus further demanding more talents and solutions to address rapid production of creatives while still requiring ever high-quality contents ads that are rich in features (Report: Statista).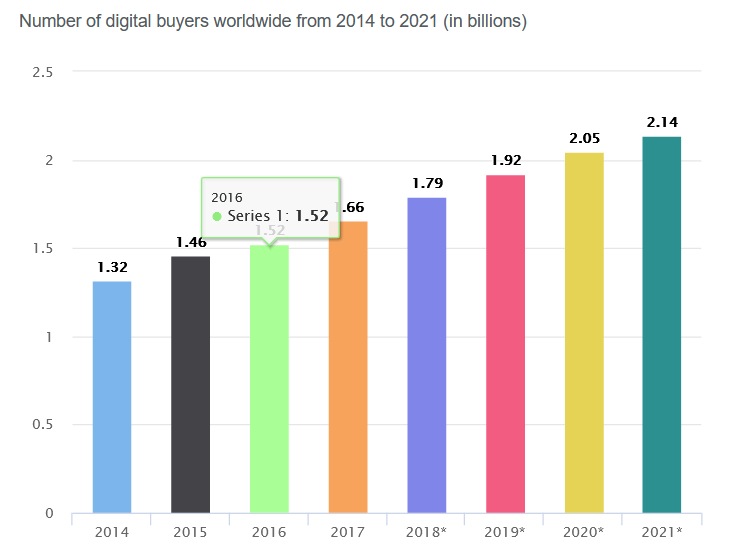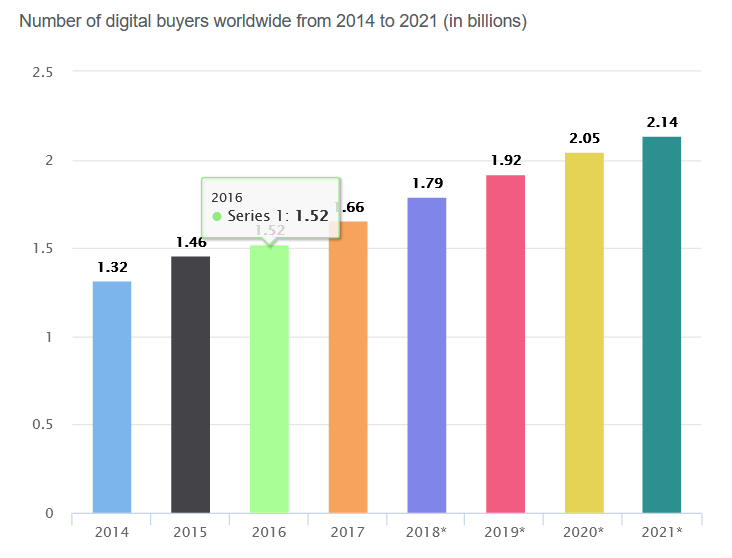 Source: Statinvestor
This has resulted in a significant content gap. Modern day businesses lack the resources to meet the high demand for contents that are tailored for viewers who differ in age group, geography, interests etc.
One solution to tackle this multi-faceted problem is by tapping the use of a creative management platform (CMP) for advertising needs.
CMPs are awesome advertising tools when it comes to closing the content gap by producing a high volume of content without the need to add extra resources.
What is Creative Management Platform (CMP)?
In a simple sense, a creative management platform (CMP) is a cloud-based software tool that uses programmatic creative ad technologies for the production of digital advertisements.
This allows publishers and brands to produce, measure and distribute their digital advertisements and keep a constant track of its performance.
The marketing industry is becoming complicated by the day. Thus, advertisers and publishers need to adopt scalable and practical solution. This is possible by utilizing centralized control mechanisms.
Media channels with unique formats are mushrooming everywhere. Additionally, the publisher's specifications are getting redefined and revised all the time.
This makes it hard for advertisers to change the composition of the ads based on the platform where it has to be published.
Another factor to consider here is time. CMP acts as a mini production house for brands to mould personalized and high impact advertising, thus maximizing ROI and reducing time. 
What are the features that you should look out for in a CMP?
CMPs have a range of features, tools and products that assist in various segments of campaign production and publishing.
1. Ad creator to help with creative designs
The heart and soul of any CMP is an ad creator-with design tools that should let creative designers craft out stunning ads effortlessly.
The design tools help by recommending or coming up with unique designs that are well suited for different means of advertising.
2. Publishing tools on the cloud 
One of the great benefit of using modern CMP is its hosting on the cloud which eliminates the need for send files back and forth making it hard to keep track of versioning and the . 
Just imagine the amount of time wasted to edit and review the files over and over again between two different work locations.
With the network integration feature, teams can now receive real-time data for analysis.
Scheduling is one of the essential elements in the field of digital marketing and advertising.
The tool is potent enough to schedule events for successful campaigns in advance.
3. Scaling tool for effective optimization
Scaling tools are integrated into CMPs algorithms, thereby enabling the designer to create several hundred variations of the master creative that is different in size, format and shapes.
This is crucial for dynamic advertising campaigns that require you to produce several hundred variations of the original design for a personalized ad campaign.
The designer can avoid the unnecessary wastage of time for writing codes or making repetitive design variations. Hundreds of ad variations are readily available with the click of a button.
4. Fetching real-time data analytics
CMP software is designed to obtain real-time analytics of the data. 
This includes vital metrics such as click-through rate, clicks, video starts and views, impressions, even custom events. The designers and publishers can see exactly how the viewers are responding to their ads. 
The built-in scaling feature will help the advertisers to quickly implement changes in the poorly performing ads to create a better one that elicits a response. 
Here, there is no need to take out the ads and re-export it manually.
5. An innovative and cloud-based platform 
It is a well-known fact that the simpler the workflow, the lesser the time taken for an ad campaign.
The unique cloud-based design of the CMP platform enables to smoothly streamline the workflow between different teams collaborating from different locations.
Working together becomes easy and productive, and it helps the process to be completely transparent as there are no additional stakeholders involved in between.
6. Ability to integrate into different market environments
The designs vary greatly depending on the market environment. There is no guarantee that a creative designed to incorporate into a particular market environment will suit another.
The transition management feature of the CMP will enable the designers to see how the translations work with designs and allow the translators to make better suggestions for the ads.
For massive projects that require several different banner variations per campaign, the CMP platform will help to cut short the time and improve the efficiency by allowing a long list of copywriters, editors and designers to work in harmony and provide real-time feedback.
The built-in translation feature will provide multiple variations of the ad designed to connect with viewers in their language.
7. Highly interactive and code free
Creating rich media ads often requires complex coding skills of computer programs such as HTML5.
For a person who is skilled only in creative designs, this can be tricky as he might lack knowledge in advanced coding and vice-versa as well.
The real beauty of CMP platforms is built-in ad scaling and ad creator features. This helps the designers to create interactive video ads without needing to code. The code will be automatically generated based on the design specification.
This same feature can be implemented for video ads as well. The ad generator tool will help the marketers to experiment with several variations of the ad to ensure that it fits the page in any size and specifications.
8. Easy to build landing pages 
Building an active landing page is one of the critical components of successful online marketing. If you don't create the right landing page, the chances are high that your business will suffer.
The landing page builder will help you to craft out dynamic and highly interactive pages to ensure that you will grab your visitor's attention on their first visit.
It is a well-known fact that landing page builders need collaboration and access to different analytics to ensure high functionality of the home page. This makes CMP an excellent tool for designers.
9. Feeds and live dynamics
CMP has integrated tools and features for live dynamics and feeds. This will help you to present the right message to the right person at the right time, maximizing the chances of conversion.
The integration mechanism helps to integrate data management platforms (DMP) into dynamic creatives. CMP will help digital advertisers to produce campaigns depending on customer journeys, behaviour, geo, and demographic data for more personalized targeting.
The DCO or dynamic creative optimization feature helps you to create several different variations of the same ad for the segmented audience.
10. Ability to publish in different platforms 
The unique blend of publishing feature with ad creator and scaling function will help you to create a wide range of digital formats in one platform.
This includes:
Video advertising

Display advertising

In-store / digital signage

Digital out-of-home 

Email

Affiliate advertising 

Social media integrations
What are the benefits of CMP?
To understand the benefits, let us consider the case of 'X' a multi-brand company that has to deal with several hundred clients around the globe, each with their own unique advertising needs.
Without a streamlined platform for digital advertising, X will have to deal with a lot of trouble while working with different clients. With so many ad creatives, there is no consistency for brands. The quality also varies a lot, depending on the market.
X solved this problem by choosing a good CMP platform. With this, X was able to view in real-time how ads are made. 
X can now select the best performing ads which help to achieve their business goals with ease. 
The good thing about CMP is that it can optimally present a brand's message over a multitude of platforms and devices.
Top benefits of the CMP:
The ad creator tool helps to minimize the time taken for ad creation and production.

No need to create complex code for HTM5. Here,  codes are automatically generated.

With the unique user interface, it is possible to create several versions of one ad to suit different advertising channels such as social media, web advertising, video advertising, mobile advertising etc.

The template options will help to view the master creative in a variety of sizes and shapes, minimizing the overall time for production.

The real-time editing features help the user to edit and sharpen live banners in real-time without having to delete and republish every single time.
Bottomline
The Internet marketing industry is booming at a massive scale, and it takes a right and intelligent approach to effectively tackle the intense high competition in the market.
In today's world, advertising is spread across numerous platforms. Taking a personalized approach for a segmented audience across multiple markets can be effectively implemented by the CMPs.
The features and functions offered by the CMPs are excellent enough to tackle all the complexities of the digital marketing industry.