In AppAnnie's 2021 State of Mobile report, global mobile ad spend surged to $240 billion amidst the COVID-19 pandemic with a year-on-year growth rate of 26%. It was also reported that mobile time spent surpassed live TV by 8%, an incredible trend given that the venerable TV has been a mainstay for decades.
Separately, eMarketer reported global digital ad spend of $455.30 billion this year (as of March 2021). Aside from predicting a 15% growth rate in media ad spend, the report also noted that mobile ad spend will account for 75% of the total ad spend.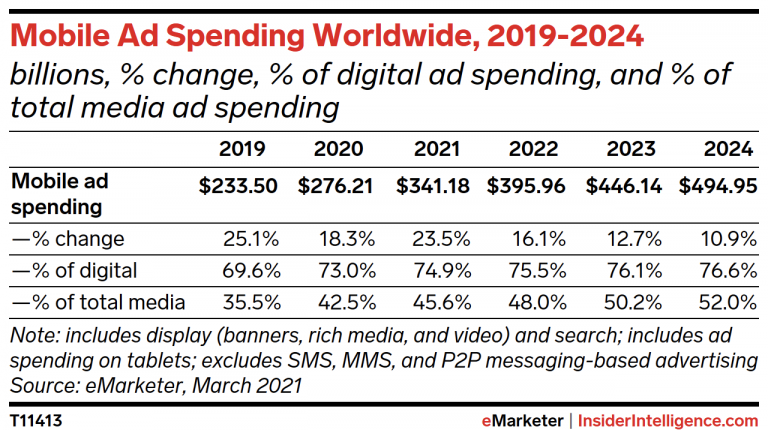 Source:eMarketer
Marketers appear to be adapting with the times and are leveraging mobile advertising to reach their audience. In today's world, advertisers and publishers use a wide range of options to craft out user-friendly mobile ads to drive traffic and strengthen brand equity. AppAnnie's Report also reported that not just Gen Z and Millennials who are spending more time on their mobile, Gen X and Baby Boomers saw a 30% year-on-year growth in total time spent, the largest growth among the age groups.
Today, netizens are increasingly concerned about data privacy and are highly sensitive to intrusive ads making them resistant or completely ignore ads altogether, to the extent of total block out of ads. In this article, we will discuss some of the mobile advertising strategies that aim to counter resistance by taking on a customer-centric approach to maximize your marketing efforts.
Mobile advertising strategies
While partnering with credible mobile advertising companies will take you a long way, the following strategies will help you hit the goal.
1. Personalize your engagement with your target audience
Audience customization is one of the easiest and most effective ways to increase your conversions.
With numerous alternate options available online, customers can easily shift to any of your competitors by the click of a button. It is also not a big secret that your customers will naturally expect a tailored experience that requires personalization. This is precisely where Dynamic Creative Optimization (DCO) comes into play.
With DCO, one could easily create several versions of the same ad, explicitly designed for targeting segmented audiences.
Personalization is the process of targeting your mobile ad content based on known attributes.
Explicit Personalization 
This is when you know the details of the user visiting your mobile ad through authentication. You can improve the viewer experience of your mobile ads based on the information taken from their profile. For example, if a user has purchased a product after viewing your ad, you could display similar products. Certain degrees of explicit personalization can also be done by storing a static cookie in your visitor's mobile device.
Implicit Personalization 
Here, you do not have much idea about the specific choices of your audience but you can still gain some insight into what type of content users find attractive. Monitoring the traffic patterns and search queries will help you in gaining significant insights regarding users. If your mobile ad network allows it, you can include several targeting options as well. The variables usually include.
Type of device used
Retargeting
Audience affinity
Day-parting
Geo-location
Demographic grouping (gender, age, socioeconomic status, etc.)
2. Use contextual marketing
With the increasing privacy concerns, contextual targeting becomes a viable alternative to reaching high-intent audiences. With contextual targeting, you get to learn and understand about user's interests and potentially intentions from session information without needing to rely on third-party cookies, which is already on its way out.
You will be able to cultivate an interest in your viewers by delivering ads pertinent to their current session and those who find the ad relevant to them will engage more willingly. Here, the mobile ad viewers feel that they are in control, making it an effective strategy in advertising.
3. Give incentives
Most if not all of us would love a freebie or two. We know that reward motivates behavior – this concept has been popular for many years and is now being incorporated into mobile advertisements as well.
Consumers are more tolerant towards ads if they are expecting them or being incentivized. It was found that 80% of shoppers would watch a mobile ad in exchange for rewards or discounts from their favorite retailer. This is because consumers feel like they have more control since they made the decision to be exposed to the ad in order to receive the incentive.
Now that you have gotten the attention of an audience who have opted in, keep your advertisements attractive by presenting your ads in the form of discounts, promotions and capture their attention in the first few seconds. Incentivising audiences can improve your brand or product awareness but the primary thing to understand is that the success of an offer depends on the value of the offer itself. Make sure that you actively track every engagement level while you roll out your incentivized ads.
4. Integrate with social media
Figures have reflected that in 2020, the average daily social media usage of users worldwide reached 145 minutes per day. Now that's a huge opportunity for mobile advertisers.
The prevalence of social media in the daily lives of individuals has become a valuable advertising platform for marketers and publishers alike. Furthermore, research from eMarketer also showed that users are more accepting of ads on social media. Carefully integrating your mobile ad campaign on various social media platforms can catalyze your hard work in driving brand lift.
It would be optimal to integrate Social Media Advertising with encouraging user-generated content. This can be done through sharing the post or referring to a friend to receive incentives. Word-of-mouth marketing is said to be the most effective form of marketing. Consumers are more likely to trust the information provided by their peers as compared to information provided by marketers. However, traditional word-of-mouth has a limited reach but thanks to social media, users today can provide organic marketing for a brand on their social media platforms through UGC!
5. Identify high-value users
Identify high-value users through hyper-targeted campaigns. Hyper-targeted campaigns are highly specific to a niche group of audience, reaching them across various channels using consumer data and other advanced technologies.
Location-based Advertising
High-value users can be identified through location-based advertising. This form of targeting is one of the most effective methods for mobile ad strategies as their extensive benefits serve to propel these advertising campaigns. This form of advertising allows brands to reach consumers within a geographical region from their hyper-local data. In this way, audiences can receive offers and promotions in a timely manner when they are within the vicinity. Read more about the benefits, tips, and types of LBA methods that you may use to maximize your ad campaign from our Complete Guide to Location-based Advertising.
Lookalike audience
Broaden your target audience by targeting high-value prospects similar to your consumers with the help of first-party data. Expand your exposure; reach out to similar audiences based on demographics, behaviors, and interests.
Social Media
Social Media is also a tool to identify high-value users. This can be observed through users' engagement with your page, page visits, and page shares. Target these audiences that have visited your social pages and retarget them across platforms and channels when they have shown interest in your brand.
Study your data
Segment your audience and study them. Marketing campaigns can have many different objectives – to build brand awareness, increase sales, target new customers and the list goes on. With whichever objective your campaign seeks to achieve, it is important to segment your audience and study data in order to identify high-value users. Whichever metric you prefer to analyze your KPI, data analysis and audience segmentation can help you aptly target the high-value viewers and reach them with an individualized message, different from their counterparts, that would be fitting for them.
6. Use Frequency Capping
Mobile ads are effective in building brand and product awareness as Millward Brown's reported has reported. Mobile ads proved to outperform online ads in garnering 2.7% more brand awareness, 11.3% more ad awareness, 8.1% more message association, 1.9% more brand favorability, and 2.8% more purchase intent. Nevertheless, too much of anything is never a good thing.
As aforementioned, users are more susceptible to resisting advertising efforts. Therefore, frequency capping is a feature that limits the number of times your ad is delivered to an individual. This capability allows marketers to manage the number of impressions a user will have within a specified timeframe to prevent consumer irritability and resistance towards your advertisement.
Implementing frequency capping also allows marketers to allocate their marketing dollars more effectively by redirecting impressions to another viewer in the targeted group when an ad has reached the frequency cap of a user.
Frequency capping improves the overall user experience of a customer and takes a more customer-centric approach in advertising by limiting ad fatigue whilst ensuring effective expenditure on marketing dollars.
7. Build your customer retention strategy
These days, the global competition in online marketing is fierce across all verticals. Hence, a customer retention strategy is an important arm of marketing. This can be achieved by having open communication with your customers and building rapport with them. Aside from the fundamentals such as providing excellent customer service and building trust with your consumers, retaining customers can include loyalty programs, rewarding them with surprise gifts and exclusive discounts. It is important to know your customers – what attracted them and drew them to patronize your business.
However, in today's competitive landscape, it is critical to retain your existing clients and not lose them out to competitors that are offering greater incentives. Your products and services have to be at the top of your customer's mind and this can be accomplished through retargeting. Research has shown that the average CTR for display ads is 0.07%, while that of retargeted ads is about 0.7%. Along with this, retargeting efforts are also increasing the brand revenue, improving brand lifting (12%), increasing website engagement (16%), and acquiring new customers(*33%). Mobile retargeting efforts include SMS, push notifications, mobile banner ads, ads on mobile apps, and many other ways.
8. Use less intrusive ads
Studies done by Hubspot indicate that 48% of mobile users strongly agreed that ads are more intrusive now when compared to a few years back. This could be one of the reasons why statistic mobile banner ads have a very low CTR of 0.14%.
The main reasons are:
Interactivity is low in static banner ads.
Users will be disrupted from the activity that they are doing.
Give your viewers a choice
Users become more resistant and annoyed when they feel like they lack control when it comes to being advertised to. Intrusive advertisements include ads that redirect the user in the midst of their search or forcing them to comply with a pop-up is disruptive to their user experience and will backfire.
This can be countered when the ad value adds to the customers by providing enticing rewards or incentives like free education, downloads, or access to exclusive information. This has to be coupled with the freedom for users to opt-in or out.
Say for example, while a user is browsing a site, an interactive ad appears which asks for the user's details for exclusive promotions or insights. Now the mobile user simply has to fill up the form and continue what they were doing.
The target audience has the freedom to close the ad or comply to receive the reward. The main advantage of this is that the user won't be redirected to another landing page, offers incentives, and gives consumers a choice to participate. These forms of ads would be able to garner greater engagement and be beneficial for both the user and business.
Paid search ads
Paid search advertisements target according to what the user has searched. With this, you'll already be reaching high-intent customers that would not be put off by ads.
Native ads
Another means to practice less intrusive marketing is engaging native ads. Such ads blend into the platform that they appear on, making their displays less disruptive than popup ads.
9. Test your ads
Run A/B testing
A/B testing allows you to change certain variables of your ads (like ad creatives, audiences, placements, texts) to determine the best performing strategy and improve future campaigns. With this, you can compare and identify what kind of messaging style, creative type, and so on, works best with your specific audience type.
A/B testing is carried out like an experiment whereby a variable is changed between ad A and ad B while the rest remain the same. Your segmented audience will then be randomly exposed to either one of the versions of your ad. From here, you may measure the performance of each strategy by testing and identifying the ad that is performing better
10. Make sure that you have fraud prevention
Research has shown that every year, billions are lost in ad frauds.
In 2019, the total ad loss due to ad fraud was about 5.8 billion dollars. Hence, it is critical to find a reliable advertising partner that seeks to eradicate fraudulent activities and protects your brand. Some ad fraud prevention tools include AppsFlyer and Pixalate, both of which are integrated with XPO helps to protect against fraud.
To name a few, fraudulent activities include:
SDK Spoofing
This is a relatively new type of ad fraud whereby the fraudster listens to communications between Mobile Measurement Platforms and ad networks. These communications are then replicated to look like genuine user responses such as clicks, installs, and so on.
Click Spamming
Quite popularly known as organics poaching, this occurs when a fraudster replicates the clicks of a mobile ad viewer who has not seen your ad.
Click injection
This is another form of click spamming, which usually happens on the Android platform. This method abuses the broadcast feature of the Android OS.
When this happens, a trojan app installed on the device of a genuine user will send signals imitating the clicks which indicate that the app is installed.
Bots and Emulators
These are programs that could run on any device and simulate their tasks. For example, an emulator could fake a device to appear like a specific version of a smartphone. They could perform fake app installation and simulate clicks that appear genuine to the ad network.
Bottom Line
Ad spend data has shown that mobile advertising is the leading channel that advertisers are relying on to market themselves. It is easily understood that mobile advertising is one of the most effective ways to reach consumers.
However, in today's advertising climate, viewers are less receptive or ignore advertisements they find invasive, irrelevant, or when viewers feel like they are being hard-sold to. This would mean the advertising efforts become completely futile.
But not all is lost, netizens are more receptive to ads that are relevant, invasive, and beneficial to them. Hence, marketers must always take a customer-centric approach to empathize with the viewers when creating campaigns to ensure a pleasant customer journey.