In 2019, there are already more than 5.11 billion mobile users in the world. This is a clear sign that it would be in your best interest to give mobile advertisement the attention that it deserves. To have a breakthrough in your conversion rates, you need to have a clear mobile advertising campaign strategy in place.
Sadly, many marketers are still making their landing pages, campaigns, and ad groups using a desktop approach. They later add mobile advertising as a side thing, missing out on a lot of sales.
The article lists the key factors that you need to observe in order to have a successful marketing game.
1. Include your mobile number
The easier your customers are able to reach you, the more they are likely to shop with you. Instead of using the traditional method where you put a landline number that leads them to the website, give them the option to contact you directly.
Note that most of the leads that are directed to the site abandon their carts and never return to complete their shopping.
You will incur a small cost of standard CPC, but on the brighter side, you will now have a potential lead's phone number, which can be easily nurtured to make a purchase.
For your mobile ads to drive sales in this manner, edit your call extension settings. Instead of showing both your website and phone number, ensure it only displays the latter.
2. Ensure that your mobile speed is effective
Mobile users are impatient. A study showed that 40% of website visitors abandon the site the first 3 seconds if it does not load.
One of the major factors of a mobile page is rendered start time (RST), which simply refers to the total time taken before the first content shows on the screen.
With low levels of customer's patience, sites with a high RST enjoy the benefits compared to other websites. In fact, they get a 50% higher engagement with the visitors, which boosts their conversion rate.
If you are not sure whether or not the level of your RST is right, here are a few things you can do to confirm;
3. Have attractive images
The digital world is a visual society. Having quality images will, therefore, help you attract and connect with your audience.
Here are a few ideas on the kind of images you should use;
Pictures of other people – human beings are wired to want to see other people
Quality images that ignite the emotions of the audience (this is the emotion you want them to feel)
Product images of what you are selling to ensure your visitors know what you are selling
PS: Remember to compress and resize your images to ensure they load fast and don't interfere with the speed of the mobile page load.
4. Have a super friendly website
Usability is very crucial to a site for all device users like mobiles, laptops, desktops, etc. Here is what it entails:
Making sure that your clients can easily do simple tasks on your website, such as finding information on the site.
The ability for visitors to figure out what they want to do on your site effortlessly
It is also vital that they can easily pick up what they were doing once they leave their site and come back.
Making it easy to erase mistakes when entering information on the site.
You can reach these standards by:
Have enough space in your site for your visitors to fill in their information without tapping on the wrong keys (this can be very frustrating).
See that your Call to Action (CTA) is visible and can be easily tapped to making the conversion process easier.
Consider going for cross-channel advertising if you have not. After all, not all your audience will be on mobile all the time.
5. Introduce autocomplete on your site
If you can help your users get what they want on the site in the shortest time possible, they are likely to return the favor of buying from you or signing up with you.
One example, where autocomplete has been used so effectively in enhancing user's usability is Amazon and Google.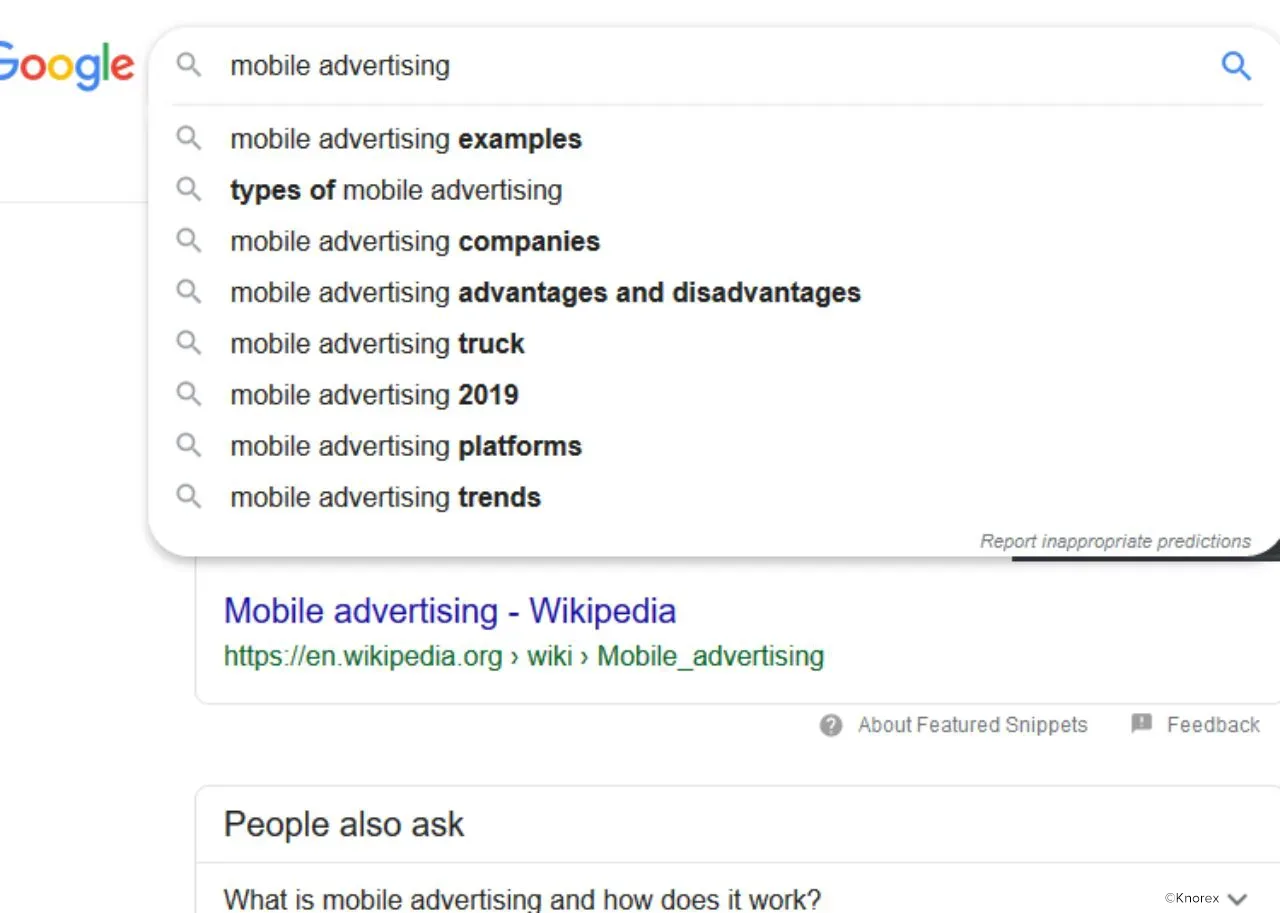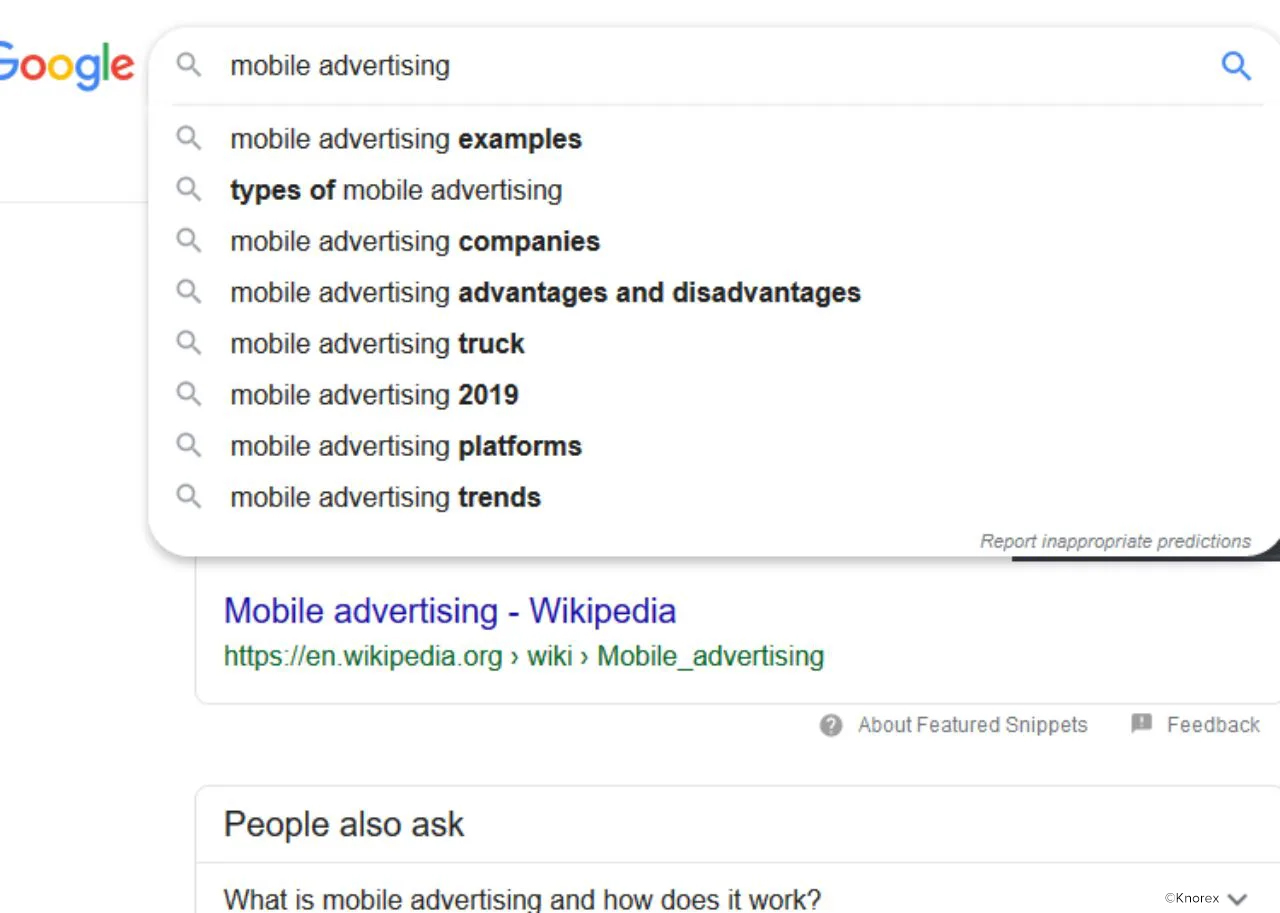 6. Use product videos
The first step of converting a visitor is by capturing their attention. Statistics show that using a video is one of the greatest ways to do this.
The data below says it all!
79% of the consumers prefer watching to reading about a product
84% buy something after watching
90% of consumers watch on their mobile devices
7. Build trust
The only way people can buy from you is if they trust you. The next question, therefore, is- how can you do this with mobile users? In desktops, you use tactics such as;
Testimonials to convince the buyer that she/he is making the right decision
Contact information to show that you are a trusted organization
Features that show the prospects that they can trust you with their private information, without any fraud activities.
This is however different when it comes to mobile advertising, since you may not have enough space for all this information.
What you can do is add a click to call or message interaction board. People love to know that there is someone they can talk to if they encounter an issue.
8. Offer an incentive on your ad
Everyone loves gifts, especially when they are appropriate for what they are searching for. This is why incorporating promotions in your mobile package could boost your conversion rate.
This could be in the form of free shipping, discount, voucher, or any creative offer that will encourage people to click through your ads.
For example, Smooth Sailing, a clothing company, boosted the number of newsletter subscribers by offering a 15% discount.
The point is, incentives motivate people to stay longer and check out your ads.
However, this tactic does not work for everyone — the reason being the lengthy procedures that visitors have to go through to claim the incentive.
To claim many offers today, a client has to go through multiple email redirects or confirmations.
To avoid any dropouts have redemption or lead catch on the mobile ad, that your prospects can easily fill.
Although the success of an ad has a lot to do with the value, the creative can also affect the delivery leading to high or no success.
Using your engagement results, try to tweak your CTA, and keep tracking to observe differences in the engagement levels.
9. Personalize ads towards your target audience
Customized ads help you engage with the right audience. Regardless of the platform that you use; people don't have the patience to read/watch ads that are not helpful.
The first thing you have to do before crafting your ads is to think of the interests of your clients.
Ask yourself who your target customers are, when they use their mobile phones, and what content they are looking for in their mobile content
This is when the implementation of Dynamic Creative Optimization (DCO) comes in.
The latter helps in ensuring that when different variations of an ad are made – they will automatically change to fit the right audience.
Think it in this way-  If you have a combination of ads that relate to teenagers, a music lover, or a pet fan, you have a high chance of having your ad watched than producing an advertisement which is a "one coat fits all" thing.
Using DCO can help customize your ads. If possible, hire a dynamic creative optimization company since the setting up process can be challenging.
Additionally, you also have to be careful when you are purchasing your ad inventories. It is advisable to include as many targeting options as possible.
Variations mainly offered by a demand-side platform (DSP) e.g. Knorex XPO are;
Geo-location
Re-targeting
Day-partying
Audience affinity
Type of gadget being used
Demographic grouping (age, gender, social-economic status, etc.)
10. Pair ads with social media
In 2020, social media will be the main content distributor platform (it still is). It, therefore, only makes sense to leverage that in your business.
More and more adults are engaging in social media on their mobile devices. Pair your ads with your social media feeds.
Below is an example that managed to increase its brand awareness by encouraging visitors to interact with the ad and share it in their social media profiles.
This move alone helps you get the right audience as well as brand exposure.
It is hence advisable to pair your ads with your social media pages and track to see the number of shares you get.
11. Pay more attention to engagements instead of CTRs
For many decades, marketers have used Click-Through-Rate (CTRs) to measure the customers' purchase intent.
However, this has become an invalid option over the years.
There are many reasons that have led to this. To begin with, advertisers are sharing their content in many different channels, which increases the chance of people touching it.
This has influenced a behavior change in customers. A person may see an ad when browsing an app but choose to interact with it following an online search.
Also, the marketing industry is now embracing interactive ads. This is where a customer can call directly from the ad or fill-up the form without being redirected to the landing page.
It's, therefore, time to rethink your strategy if you are still using CTRs to determine the success of an ad campaign.
Final Thoughts
With the growing number of mobile and smartphone users globally, it is only natural to redirect your marketing game plan towards mobile advertising.
However, even with a large audience, it is only possible to run a successful mobile advertisement campaign with the right strategies.