One of the key trends that have emerged and accelerated during the pandemic is the shift in car purchase journey and cycle. For many, the car-buying process has gone digital with users increasingly relying on multiple online channels to obtain information prior to purchase. Some even skip visiting a dealership or showroom altogether. Marketers have to be ever more in tune with consumers to understand their behaviour and preferences to develop an effective digital marketing strategy for car-buying.
Developing Automotive Marketing Strategies
Tracking and understanding the customer journey should be the basis of your strategy. It is crucial to know as much and as many of your customers as possible before developing your campaign. A study by ACA Research found that the automotive customer journey typically lasts from 5-12 weeks following these stages:
#1 – Develop a shopping list of vehicles and brands: 1-3 months prior to purchase
#2 – Shortlisting the targets: 4-7 weeks prior to purchase
#3 – Go for test drive: 2-3 weeks prior to purchase
#4 – Finalize choice of vehicle: 1-3 weeks prior to purchase
Majorel's research, Online Car Sales: The Digital Customer Journey in the Automotive Industry, provided insightful information about the phases and contact channels that car buyers engage with. By incorporating both Majorel's report along with the ACA research's paper, we try to remodel the customer journey framework for automobile buyers for a pictorial view of how we can engage car buyers at different touchpoints along their purchase journey: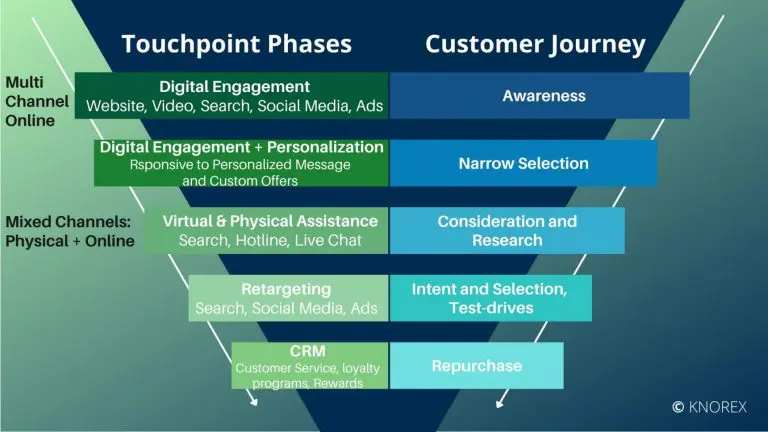 Google's research on the car-buying process also provides key insights into the touchpoints and interactions customers engage with through their purchase journey.
Strategies throughout the stages of the Automotive Purchase Process
Below we explore the Customer Journey and delve into the automotive marketing strategies you can take to amplify the effectiveness of your campaign.
#1 Awareness: The Customer Journey Begins Online
Industry players are shifting their gears to digital marketing strategies as consumers are utilizing multiple online platforms through their purchase. 95% of prospective buyers do their research online and twice as many begin their research online before visiting a dealer. Users are taking an active role in their purchase process today.
From the ACA research, we can also observe that users spend a bulk of the purchase journey in the early stages of the research and information gathering process that's mostly done online. Hence it is clear that online presence is essential for the initial stages of the customer journey. Therefore it is imperative for Automotive Marketers to invest in digital advertising strategies to aid in targeting and retargeting high intent audiences according to their purchase considerations. Incorporate these 5 ways to boost digital engagements in this stage.
Key Marketing Strategy in this stage
Video Marketing
Shoppers are turning to online videos for their research to discover, learn and compare before making a purchase. Here are some statistics:
#2 Narrow Selection: Customer Reviews Matter
At this stage, customer reviews are critical in helping with their decision-making process. The car-buyer will be reading reviews on various channels such as Youtube, Search and other dealership review related pages.
It is critical to have positive sentiments about your business as shoppers trust their fellow shoppers. This can be done by encouraging reviews, organically created User-Generated Content (UGC), partnerships with content creators to review and of course, good customer service that will leave a positive impression on your brand.
Key Marketing Strategies in this stage
1. Encourage your customers to share their reviews
A study by DealerRater and Dataium found that shoppers are 90% more likely to visit your site and 5.3 times more likely to convert to a lead if the dealer has a positive rating. 83% of service customers surveyed say online review sites substantially helped them in their dealership selection process. Finally, 69% of customers say they only visited one dealership before buying or servicing, therefore it is paramount to have positive sentiments on review sites.
2. Engage Content Creators for a review or test drive
Albeit branded commercials get higher viewership, content creators get substantially higher engagement with a range of content. Partnerships with the right content creators can be a very effective strategy to influence and drive conversion.
3. Advertisements for videos
On such branded or content creator videos, it would be effective to place related ads and a call-to-action to engage with the advertisement.
#3 Consideration and Research: Create space for dialogue across channels
Here, customers are a) seeking our reviews on their shortlisted pool b) reaching out to enquire about offers and real-time inventory and c) sieving out the best deals and places to purchase from.
Shoppers today are expecting ease of connectivity for dialogues with businesses across channels. This accentuates the importance of utilizing various platforms to ensure that customers reaching out can get in touch with you through the means they prefer.
Key Marketing Strategies in this stage
1. Employ a multi-channel strategy to refine your customer service
Your owned media, website, hotline, live chat and such, are vital to providing exceptional customer service. This is an important segment of your business to attract and retain consumers to continuously patronize your business. Therefore, it is important to stay responsive and easy to reach.
DealerRater's Annual Dealer of the Year Awards (2021) found that winning dealerships prioritized what shoppers value – a digital-first service, high engagement and Covid-19 safety precautions. Top-reviewed Dealers adopted features such as online video chat, at-home delivery and virtual walkarounds contributed to the positive reviews.
Additionally, 75% of winners of the award allowed shoppers to connect with individual salespeople at the dealership before going down to the dealership physically. You may adopt this on your Website, Social Media or Dealership Review platforms.
2. Ads with CTA
At this stage, customers are also seeking out deals and incentives. Enhance your ads with CTA to improve your ad engagement. Push your promotions and offers and run targeted ads to attract leads.
#4 Intent, Selection and Test Drives: Retarget your audience
At this point, shoppers have done their research and know what they are searching for and are looking to physically visit dealerships for test drives. Customers are constantly narrowing down their options through the purchase journey so it is crucial to retarget your audience to have them keep your business in mind.
Key Marketing Strategies in this stage
1. Set-up Retargeting Campaigns
It is important not to lose potential buyers, reduce the abandonment rate by running retargeting campaigns. Remind shoppers about your business by displaying ads to those who have visited your platforms.
2. Location-Based Advertising
Adopting a Location-Based Advertising strategy can help you execute highly personalized messaging to high-intent audiences within a specific geographical area. Many dealers have benefited from this strategy, more so when there is a call-to-action feature on their ads. Furthermore, 72% of people who use a smartphone inside a dealership are more likely to visit another one. Hence, retarget and leverage from the use of mobile.
Read more about a case study on the use of location-based targeting and contextual data.
#5 Purchase and Repurchase: Attain Customer Loyalty
Maintain your relationship with your customers by following up with their purchases and being available when they have enquiries or servicing needs. However, other than providing excellent customer service, other ways to attain customer loyalty can be through referral incentives, rewards and loyalty programs.
Find out more ways to attract customers here.
A summary of the Key Strategies we uncovered
Advertising with a Call-To-Action (CTA)
Your advertisements can become more effective when there is a CTA button to increase the likelihood of subsequent engagement with the Ad. CTA buttons can vary in the form of the nearest store locator, booking appointments or enquiry features.
Retargeting
Different customers are at different stages of the customer journey, it is important to tailor your messages according to your audience and their considerations when looking for a vehicle. Here, personalization is key.
Third-party data can deliver valuable insights for a personalized message to the user. It can help you understand your audience more personally and present ads according to what they are searching for. However, with the heightened emphasis on privacy protection, there are other tools and technology that can improve your targeting capabilities such as contextual targeting (cookieless targeting), first-party data and using machine-learning algorithms to segment your audience.
Data is crucial in spearheading an effective campaign. It is important to know your audiences to appropriately deliver messages that are aligned to their purchase intents. This would capture their interest, increase engagement with your business and increase the chances of conversion.
Multi-Channel Marketing
Having a multi-channel strategy can effectively extend your reach to a wider demographic. In todays digital age, a large portion of the population takes a digital-first approach, however; your audience segment can span across various platforms. Therefore, advertising across channels such as Video, Audio, Search and even CTV/OTT can effectively reach your various demographics and target audience.
Nevertheless, Social Media such as Facebook, Instagram and YouTube should always be integrated into your marketing strategy. A 2018 report found that 90% of customers who use social media in their decision process feel that it influenced their decision. 31% of social media users consider Facebook the primary platform that influences their purchase decision. Social Media provides you with another channel to facilitate a 2-way conversation and allows you to interact with your consumers. As aforementioned, buyers value customer service. 80% of award-winning dealers respond to customers at double the average response rate, these dealers that go above and beyond traditionally respond within 24 hours.
Multi-Device Strategy
Many sources have found the importance of marketing through multiple devices, especially mobile. 52% of buyers are using multiple devices to shop and 60% of automotive search comes from a mobile device. Therefore your website should always have a mobile-friendly interface. This would optimize the customer journey across devices to facilitate a seamless shopping process.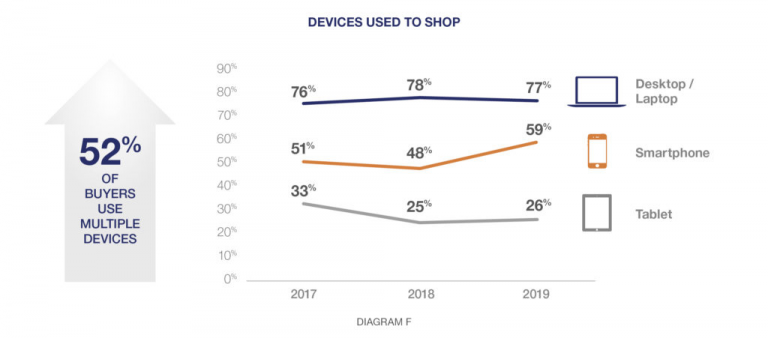 Image Credit: https://www.coxautoinc.com/
Final Thoughts
The key takeaway is that the online experience is crucial throughout the customer journey from awareness to purchase. It's crucial to understand the customer journey and market trends when executing a digital marketing campaign. Your ad needs to be at the right place at the right time. Hence it is important to have an omni-channel strategy and possess a holistic view of your data for effective data analysis and allocate your budget more effectively.