ARE YOU READY TO BRING PROGRAMMATIC ADVERTISING IN-HOUSE?
April 2, 2019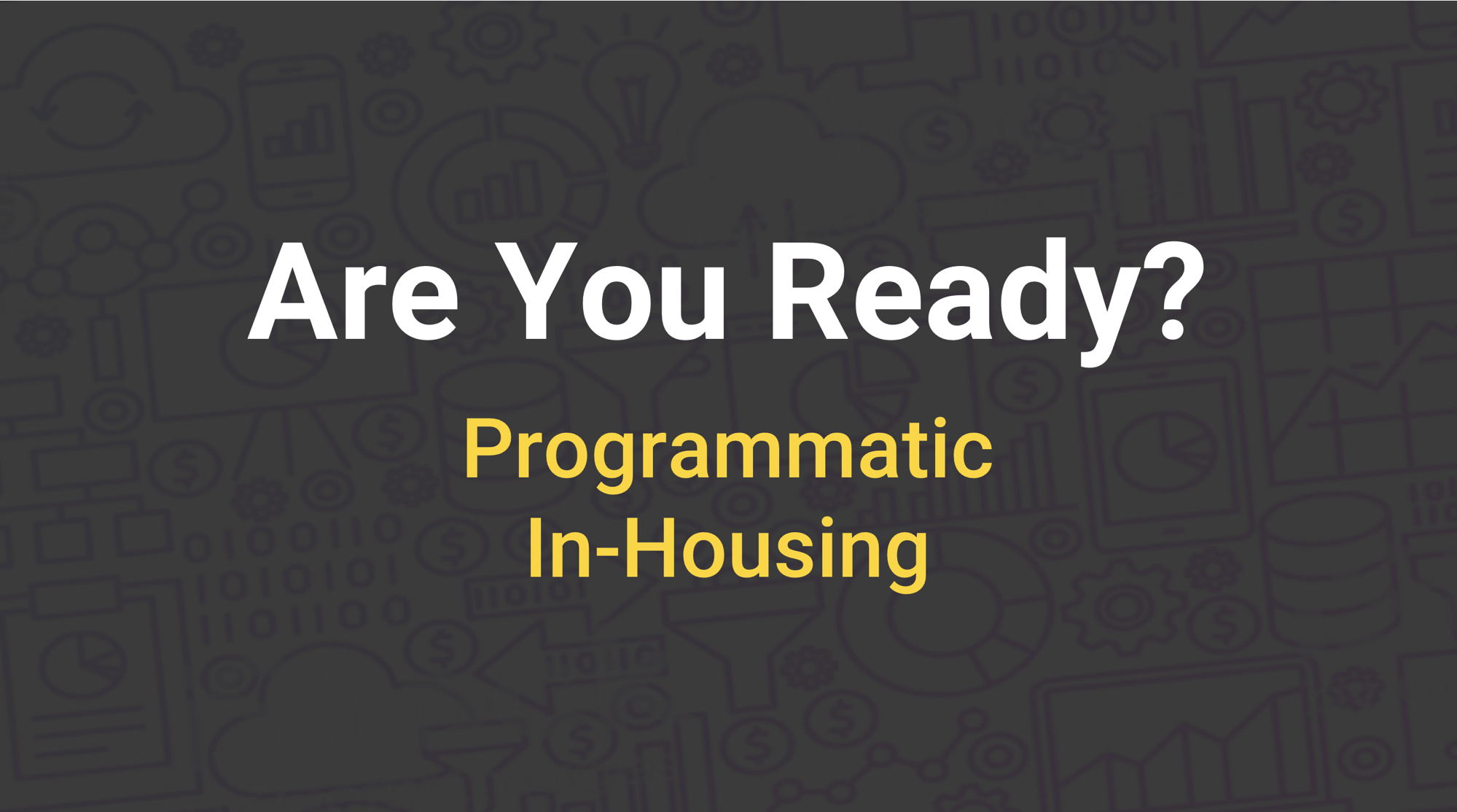 In 2019, worldwide digital ad spending is expected to  rise by 17.6% to $333.25 billion according to a report by eMarketer.com and this is the first time that digital ad spend will exceed traditional media spending. Importantly, Programmatic Advertising is fast becoming the pre-dominant choice for efficient purchase of digital advertising as it accounts for more than 65% of digital ad spending (including display mobile, social and search). Programmatic advertising involves sophisticated algorithms and machines instead of traditional process involving manual insertion orders and human negotiation.
In a study carried out by Association of National Advertisers (ANA) in 2017, about 35% of brands surveyed indicated that they were expanding in-house capabilities, more than doubling the 14% rate that was reported in 2016.
To adopt execute programmatic advertising for your advertising campaigns, you have varying forms of operation, all depending on your business needs and hence the ensuing strategic business decision to meet the demand.
OPERATING MODEL
One can broadly classify the operating model into the three categories as shown below:
a) Fully in-house
In this model, you operate all programmatic functions within your organization by tapping on your internal team resource. You will need to set up an ad tech stack within your organization along with devising and developing your media strategy, ad operations and optimization.
b) Outsourced or managed services
You work with one or more partner(s) to execute virtually every programmatic function. All parties work together by setting the KPIs and working diligently towards the target.
c) Hybrid
Using a combination of (a) and (b), partial functions are outsourced while certain functions that you would like to keep in-house are executed internally, primarily to achieve the strategic balance.
Choosing the operating model that best suit your stage of familiarity of programmatic advertising adoption would be imperative instead of focusing on cost-saving.
BENEFITS OF IN-HOUSING
Taking programmatic advertising function in-house does bring about a number of benefits, including
Flexibility, control and accountability. You get to decide how to execute ad campaigns to scale across various advertising channels by aligning with your business strategies and goals to drive higher revenue and profitability.


Greater transparency. You get to operate the platform and have direct understanding of your campaigns' execution, including delivery costs, ad placements, brand safety, media, technology, and data partners.


Cost efficiency and increased productivity. Automation, reduction of waste, cost reduction, and streamlining your operations to eliminate unnecessary overheads to improve media performance / ROI.
CONSIDERATIONS BEFORE IN-HOUSING
To fully realize the benefits though you should consider the following before taking on programmatic in-house:
Do you spend over US$1mil per year on online advertising?
Do you have your organization buy-in to commit the resources?
Do you have the talent to execute in-house?
Have you established your success metrics to measure effectiveness?
Do you have the tech stack / platform to execute in-house?
In summary, moving progressively into an in-housing model might be a good move to get acclimatized and also providing the time to garner and develop the necessary supporting structure and processes.
This article consists of 2 parts. In the next article, we will explore the tech stack selection criteria should you opt for in-housing.