Mobile advertising technology has completely revolutionized the world of digital marketing ever since its simple beginnings.
In the last decade, the use of web-enabled smartphones has seen immense growth.
The 5G technology has finally knocked on the doors in 2019. It is expected that by the year, 2025, 5G networks are likely to conquer one-third of the world's population. This will have a profound impact on the customers and the mobile industry.
The graph below shows the expected rise in the number of 5G customers from 2020 to 2025.
While that's a remarkable feat, it will prove to be a challenging environment for digital advertisers as markets become saturated with competitors and the economics of reaching rural populations become harder to justify.
Cell phone technology has penetrated every aspect of human life, and it comes as no surprise that every six months, at least ten new models are expected to hit the market.
The graph below shows the number of smartphone users worldwide.
Just imagine the limitless possibilities it could offer when several million users are walking around the globe with their advertising screens placed right in their hands.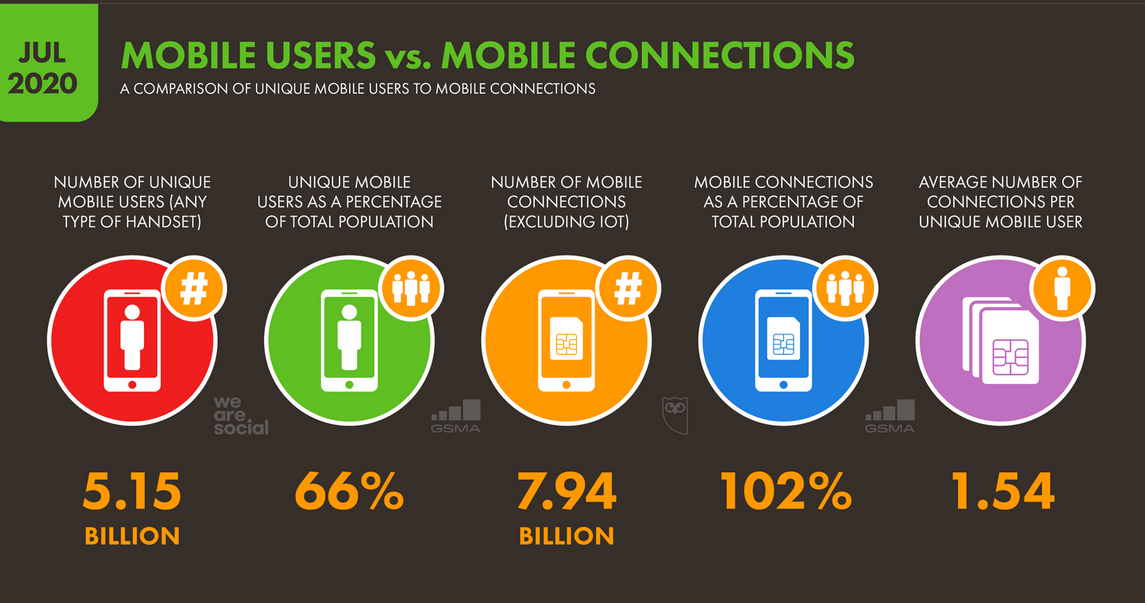 Reports by the Internet advertising bureau have clearly indicated that the mobile advertising revenue greatly surpasses the revenue from desktops.
Research done by Statista has indicated that the average time spent on mobile devices surpasses the time spent on desktops.
The graph below shows the amount of time spent on Mobile devices VS. Desktop devices in the US
This is a clear indication that advertising on mobile devices offers limitless possibilities to digital advertisers when compared to other forms. It is the main reason why companies are pouring in millions of dollars on mobile advertising.
In 2020, even amidst the pandemic, the number of US dollars which was spent on mobile advertising is still forecasted to 91.52 million dollars.
While the present era of mobile advertising is fast-moving on the runway with almost no obstacles in the near vicinity, discrepancies arise as the creative and campaign data are not housed within one system.
The process is still not equipped enough to penetrate all levels of customers who are using multiple devices to access the same content.
The article attempts to provide a comprehensive guide on mobile advertising, its types, advantages, commonly used platforms, costs involved along with examples from leading brands. 
Definition of mobile advertising
By definition, mobile advertising is an ad format that is specifically designed for mobile devices and is primarily targeted towards advertising across various gadgets such as wearable technology, tablets, smartphones, etc.
While it is true that user attention spans have significantly reduced in modern fast-paced lives, it is equally noticeable that more and more mobile users are glued to their devices. 
This alone explains why this form of advertising is highly effective.
To diversify their advertising strategy, marketers are now combining mobile advertising along with digital advertising channels such as social media, video ads, display ads, etc.
Types of mobile ads
Advertisements on mobile devices vary depending on the nature of the channel used as well as the target audience.
Different advertising strategies work for different platforms. It is, therefore, never a "one-size-fits-all" solution. 
Before you jump in to make any crucial mobile advertising decisions, it is vital to have a thorough understanding of the different types of mobile ads and how to utilize them for your brand promotion effectively.
The following is a list of the most commonly used mobile advertising formats.
1. Native ads
These are the ads that are somewhat similar to banner ads, but they are conveyed indirectly. Native ads naturally blend with the app environment to enhance the user experience.
Since it mimics the original format of the app, Native ads appear similar to a part of the editorial flow of the page. These ads often appear in recommended content of a web page, and social media feeds, etc.
As these ads are very useful in creating a cohesive experience, due care must be taken to ensure that no interruption happens to the user experience if they are immersed in the app or the website.
Many of you might have noticed that while scrolling a Facebook newsfeed, you could see ads embedded between the two pieces.
It is often considered unethical to trick the user into thinking that the ad is a part of the app or the mobile-friendly web page they are on.
Native ads are, in a way, highly advantageous as they cannot be blocked and won't cause any forced interruptions to the experience of the user.
Some of the essential ingredients to create high-quality native  mobile ads are 
Crisp description and clear cut content

Optimized URL

Brand logo

Headline 

CTA and contact information
2. Banner advertising
These are the most common types of display ads that you will encounter.
Banner advertising came into the limelight ever since the beginning of web advertising. This method is the simplest and proved to be highly efficient, even though several innovative techniques of advertising later emerged in the market.
These ads are most commonly seen as a small banner that is placed either at the top or bottom of the screen. Banner ads will usually have static or dynamic images.
In some instances, it even appears as a full-screen display which the user has to close before he can access the page or the app.
Banner ads come along with beautifully crafted images and text that's good enough to grab the attention of the viewer and persuade them to click.
The whole idea is to gently divert the visitor from the host page to the page of the advertiser in order to create conversions.
Banner ads are also the most cost-efficient and widely used form of mobile ads.
3. Video advertising
This form of advertising is gaining immense popularity and at a very rapid pace. Now with more powerful mobile processors and robust bandwidth, every mobile phone has become a TV screen.
Nothing can be enthralling like a visual experience. Since the ads create a higher level of engagement, they are much more effective in driving conversions than other forms of advertising. 
This is the real reason why advertisers prefer to invest more in video ads when compared to other forms of advertisement.
Studies have shown that the number of digital ad viewers is continuously increasing every year.
Video ads are considered as potent communication tools to get a company the maximum number of conversions.
Mobile advertisers and marketers use various video display techniques to ensure maximum views. Following are some popular strategies that are used to keep your video ads on the top viewed list. 
Simplicity

Colour schemes and catchy visuals

Enhanced creativity

Short and simple videos 

Easy to understand the message

Soothing audio etc
4. Gamified mobile advertising
This form of advertising uses a unique combo of rich media ads and interactive videos. Gamified mobile ads are advertisements that people can interact in a manner that is similar to playing a game. 
For example: if you have developed an app to find directions, a short and simple video game simulating the experience could work well in gaining viewer attention and creating increased engagement.
The graph below shows the number of videogames worldwide.
In the US, the overall revenue in the Mobile Games segment is projected to reach US$10,731m in 2020.
These numbers are good enough to prove that with gamified mobile ads, advertisers can ensure more viewer interaction as compared to other forms of mobile advertising.
5. Interstitial or Full-screen mobile advertising
These are videos or graphics that are shown on a full screen that is placed at the app transition points.
Say, for instance, you are using an app to check the details of a Zip Code. You enter the details, and while you are waiting for the result, a full-screen ad is displayed.
For Interstitial Ads, the number of click rates is high when compared to banner ads.
These are designed and ingeniously placed to ensure that the ads will present themselves only at the transition points so as not to interrupt the flow of search activity.
Mobile advertising advantages
The fact that mobiles are a rapidly growing market can not be stressed more. The numbers and statistics mentioned in the earlier sections show the growing importance of smartphone-based advertising as a part of marketing campaigns. 
So, what are the major advantages that mobile advertising has to offer, vs a vs traditional modes of marketing?
How do brands as well as advertisers benefit from it?
Following are some key benefits offered:
1. It can be used in multiple ways
Contrary to popular belief, mobile advertising doesn't always need to be about selling services or products. If implemented carefully, these could act as an excellent means to conduct surveys, collect customer data, and obtain feedback that can be completed in real-time.
2. The content requirement is less
One unique feature of mobile advertising is that it can be effectively implemented with a simple heading and a few follow-up lines. Here, the first impression, along with the images matter more than complicated value proportions and text.
3. It can be delivered anywhere, anytime
Since smartphones go everywhere we go, the ads can be served practically anywhere and at any time with an assurance that the audience will receive them when you want. 
4. It can bring forth instantaneous responses 
Mobile ads are good enough to trigger instantaneous responses when appropriately targeted. The engagement rate of mobile ads is quite high, with a click rate of 11% followed by 8% once the targeted customer has clicked the ads and reached the advertiser's website.
In a popular survey done by eMarketer in the USA,  it was reported that adults tend to spend 3 hours and 43 minutes on mobile phones which is way too longer than the time spent on TV. This means that ads served have more chances of getting instant responses. 
Further, studies have also shown that 90% of consumers were able to recall an ad they have found on a mobile device.
5. It enables social media sharing
Ads that are created for mobile devices can be easily shared with the click of a button across all the social media platforms. This helps the brands to extend the ad message to other networks that may not always engage with the services you provide.
6. Easy to track data
Unlike ads served on Television, the responses of users can be tracked instantaneously when they are served on mobiles.  Advertisers can see in real-time what's happening with their mobile ads once they are released. It also helps them to improve, fine-tune and make adjustments as needed. 
7. They drive conversions
Since mobile ads can be targeted to reach the right customers at the right time, they can drive higher conversions as compared to desktops and tablets. 
8. Cost-effectiveness
Mobile ads cost only a fraction of the amount that is required to create ads on television or even billboards. Additionally, they are more targeted which means you get complete value for the money that you spend creating them.
For more details on why mobile advertising is an effective marketing strategy and a must for your business in 2020, read "Why is Mobile Advertising Effective?"
Mobile advertising platforms
These are platforms that enable the advertisers or the publishers to purchase spots where their ads will be delivered on mobile applications and mobile-friendly websites.
Mobile advertising platforms are usually selected based on the:
Type of mobile advertising

Geography

The ad network, and

Impressions
Some of the top-rated mobile advertising platforms include:
Google ads

Facebook Ads

Instagram Ads

Bing Ads

Millennial Media

Apple Search Ads

Twitter Ads

AdColony

Snapchat

AppLovin
For more details on each of the aforementioned mobile advertising platforms, read "Top 10 Mobile Advertising Platforms in 2020."
Tips for running mobile ads on popular platforms
Data shows that Google mobile search ads, Facebook, Instagram, Twitter, and Snapchat are some of the most successful platforms for running mobile ads. 
Mobile search consumer behavior data says that about " 92% of mobile users who searched a product using Google ended up making a purchase". 
Similarly, "80% of mobile users report that they use Instagram to decide on purchasing a product/service."
And with the strong growth in the number of Facebook, Snapchat, Instagram, and Google mobile users, it does make sense to familiarise themselves with some useful advertising tips for each of these platforms. 
Interested? 
Read on.
1. Tips for placing effective mobile ads in
Google Search 
Make use of

ad customizers

Create a need for the customer and match it with a call to action

Link the ads to a mobile-friendly website

Add mobile-specific ad extensions. 
2. Tips for placing mobile ads on
Facebook
Utilize Facebook ads and features like Facebook's instant form to get customer information

Reach out to a targeted set of audience (those who search your website on their mobile devices)

Keep the ads colorful and visually attractive

Put up the key value proposition in the main image

Use the right image sizes. 
3. Tips for placing mobile ads on
Snapchat
Use Snapchat geofilters to advertise events

Incorporate storytelling for higher engagements

Use Snap Ads attachments that can be purchased through Ads Manager (includes App install, Long-form video, web view)
4. Tips for placing mobile ads on
Twitter
Place videos in your promoted tweets instead of an organic/natural tweet

Select the target audience before running the ads
5. Tips for running mobile ads on
Instagram
Choose campaign level objectives

Select Ad set levels and placements

Select budget and schedule

Select the right format (out of the four available on Instagram)

Add compelling images and content

Connect Instagram Account to Facebook
Mobile advertising strategies
The mobile advertising market is expected to grow significantly in the years to come which is perhaps the reason why all online brands and businesses want to reap the benefits. 
With Knorex, you can choose to target audiences based on their mobile app activity. Learn how from this article.
Also, with the growing usage of mobile apps across the world, learn how you can create App Install Campaigns in XPO.
However, reaching your target audience is not as easy as it sounds. Mobile users are often not willing to see ads on their devices and deploy multiple ad-blocking options like CyberGhost, NordVPN, etc. 
It is, therefore, important to strategize your campaigns in a way that puts across relevant ads and draws in the audience successfully. 
Additionally, for a better reach, advertisers need to focus on enhancing the viewer experience to the maximum.
Following are some effective and proven strategies to create successful ad campaigns on a mobile phone:
Audience customization (including explicit personalization and implicit personalization).

Deploying fraud prevention techniques (SDK spoofing, click spamming, click injection, Bots, and Emulators.

Offering incentives and free stuff.

Social media integration.

Targeting high-value users.

Including contact numbers within the ads.

Customer retention.

Avoiding unnecessary redirections.

Creating interactive mobile ads.

Ad testing before the launch.

Using modern tools like

location-based advertising

and

contextual targeting.
Read more about mobile advertising strategies in our article "Top 10 Mobile Advertising Strategies For Best Results."
Check out some more insights on planning an effective mobile ads campaign at "11 Mobile Advertising Campaigns Tips for Better Conversion Rates"  
Cost of mobile advertising
So, now that we know all about the types of mobile ads, the commonly used platforms, the strategies that are needed, the next obvious question is: "What does it cost?"
The cost of mobile advertising depends on various factors such as: 
Targeted location

Size of the target audience group

Length of ad

Geography

Ad delivery channel

Type of industry etc.
Research done by eMarketer has revealed that the global mobile internet ad spending has grown from 19.20 billion dollars to 195.55 billion dollars between the years 2013 to 2019.
Now that's a huge number!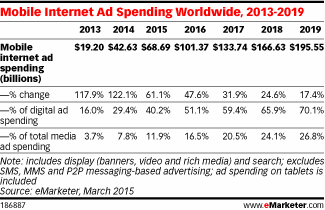 CPM, CPA, and CPC are techniques used to calculate mobile ad expenditure.
1. Cost per Click (CPC)
Here, the cost is calculated based on the number of clicks.
2. Cost per Action (CPA)
Here, more focus is given to a particular action undertaken rather than blindly calculating the number of clicks.
Say, for example, companies build their campaigns with objectives like"x" number of successful user registration or "x" of download and installation, etc.
3. Cost per thousand impressions OR cost per mile (CPI/CPM)
This type of payment mode focuses specifically on the number of impressions, so they pay for the actual number of mobile users who are viewing the ad rather than the number of clicks or installations.
Mobile advertising examples
In the present day digital world, all our shopping needs are at the click of our fingers (or in the world of touchscreen smartphones, shall we say the "swipe of our finger")
The mobile ad spend is expected to grow to about 250.5 billion dollars in the year 2021. No surprises why most online businesses want to leverage mobile advertising to draw traffic, increase sales and conversions. 
Various leading brands like Adidas, Samsung, Pond's, Hugo Boss, Wendy's, Duolingo, Starbucks, etc have set forth some inspiring examples for the business world that's considering mobile ads as a part of their marketing campaigns. 
To read more on how these companies skyrocketed their sales and hit the right chord with the audience with relevant ads, click "Mobile Advertising Examples: 10 Companies That Are Hitting The Mark."
Final Words
We are in an era where technology has completely revolutionized the idea of digital advertising. Additionally, consumer behavior is undergoing a massive shift. And let's not forget that the current COVID-19 pandemic has forced people to shop from the boundaries of their homes. 
This change will perhaps take mobile marketing to a whole new level. 
Every single day the online traffic is undergoing a stupendous change, and people are keen to get engrossed in digital news, mobile applications, and streaming content.
An effective mobile advertising strategy is necessary to exploit the immense possibilities that are on offer. Never before in history was it possible to send personalized advertisements to audiences all over the globe.
The first step to tapping the unlimited potential of mobile technology in digital advertising will be to shift the focus from desktop ads to mobile ads. Start now and get an edge over your competitors!